~Ikinari Ikuta ☆ Yoroshiku Yossie~

DVD Cover
DVD by

Ikuta Erina




Yoshizawa Hitomi

Native title
いきなりイクタ★よろしくヨッスィー
Released
June 2014
Genre
Fanclub Event
Format
DVD
Recorded
March 20, 2014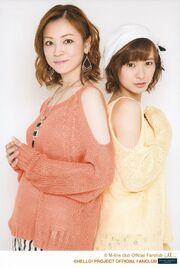 ~Ikinari Ikuta ☆ Yoroshiku Yossie~ (いきなりイクタ★よろしくヨッスィー) was a fanclub event by Ikuta Erina and former Morning Musume member Yoshizawa Hitomi at Tokyo FM Hall on March 20, 2014. The DVD was sold through the Hello! Project Fanclub and had a deadline to be ordered by June 27, 2014.
MC
Featured Members
Edit
External Links
Edit
Ad blocker interference detected!
Wikia is a free-to-use site that makes money from advertising. We have a modified experience for viewers using ad blockers

Wikia is not accessible if you've made further modifications. Remove the custom ad blocker rule(s) and the page will load as expected.