Zomvideo

DVD Cover
Movie by Murakami Kenji
Native title
ゾンビデオ
Released
October 15, 2011 (Premiere)
December 29, 2012 (Full release)
April 10, 2013 (Home release)
Genre
Comedy-Horror
Format
Theatrical release, DVD, BD
Length
77m
Label
King Records
Other Covers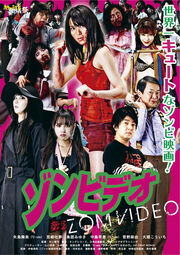 Zomvideo (ゾンビデオ) is a 2011 comedy-horror movie starring, among others, ℃-ute members Yajima Maimi and Nakajima Saki. The movie's theme song is ℃-ute's "Sekaiichi HAPPY na Onna no Ko." The movie was billed as "the world's best cute zombie movie" (世界一キュートなゾンビ映画).
Though originally given a premiere October 15, 2011, it did not get a wider release in Japan until much later: December 29, 2012. It was later released on DVD and Blu-ray on April 10, 2013. In Germany the movie was released as Rage of the Undead.
Aiko works at a small video editing company, and while searching old tapes for some needed footage runs across a strange video about the best way to survive against zombie attacks. She must soon put this knowledge to use, as a zombie outbreak occurs in the area, with the zombies led by the mysterious woman Yasude.
Director: Murakami Kenji
Writer: Kawai Katsuo
External Links
Edit
Ad blocker interference detected!
Wikia is a free-to-use site that makes money from advertising. We have a modified experience for viewers using ad blockers

Wikia is not accessible if you've made further modifications. Remove the custom ad blocker rule(s) and the page will load as expected.