Ad blocker interference detected!
Wikia is a free-to-use site that makes money from advertising. We have a modified experience for viewers using ad blockers

Wikia is not accessible if you've made further modifications. Remove the custom ad blocker rule(s) and the page will load as expected.
Yumemiru Fifteen (夢見る 15歳; A Dreaming 15-Year-Old) is S/mileage's debut major single. It was released on May 26, 2010 in limited A, limited B, and regular editions. Both limited editions coming with bonus DVDs. The limited editions and the first press of the regular edition come with a serial number card which, when entered in a lottery, could win a ticket to one of the single's release events. The single reached #5 on the Oricon charts and charted for four weeks, selling 24,936 copies. The PAX JAPONICA GROOVE REMIX released digitally June 18, 2010.
Tracklist
Edit
Yumemiru Fifteen
Thank You! Crème Brûlée no Yuujou (サンキュ!クレームブリュレの友情; Thank You! Crème Brûlée Friendship)
Yumemiru Fifteen (Instrumental)
Limited Edition A DVD
Edit
Yumemiru Fifteen (Dance Shot ver.)
Limited Edition B DVD
Edit
Yumemiru Fifteen (Another ver.)
Yumemiru Fifteen
Yumemiru Fifteen (Close-up Ver.)
Making Eizou (メイキング映像; Making the Video)
Yumemiru Fifteen (Wada Ayaka Close-up Ver.)
Yumemiru Fifteen (Maeda Yuuka Close-up Ver.)
Yumemiru Fifteen (Fukuda Kanon Close-up Ver.)
Yumemiru Fifteen (Ogawa Saki Close-up Ver.)
Yumemiru Fifteen (Wada Ayaka Dance Shot Ver.)
Yumemiru Fifteen (Maeda Yuuka Dance Shot Ver.)
Yumemiru Fifteen (Fukuda Kanon Dance Shot Ver.)
Yumemiru Fifteen (Ogawa Saki Dance Shot Ver.)
Remix Edition
Edit
Yumemiru Fifteen (PAX JAPONICA GROOVE REMIX) (夢見る 15歳 (PAX JAPONICA GROOVE REMIX))
Featured Members
Edit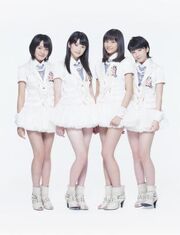 TV Performances
Edit
[2010.05.22] MelodiX
[2010.05.22] Music on Saturday (footage of Odaiba Golden Week performance)
[2010.05.23] BJ League (footage of performance at Ariake Colosseum for a Basketball game)
[2010.05.28] WEST WIND
[2010.05.30] MUSIC JAPAN
[2012.12.24] M-on! Special Live Girlpop (footage of performance at Girlpop TV's Live Girl Pop Vol. 1 Colorful)
[2014.08.02] Tokyo Idol Festival 2014
Concert Performances
Edit
Yumemiru Fifteen
Thank You! Crème Brûlée no Yuujou
Single Information
Edit
Yumemiru Fifteen
Thank You! Crème Brûlée no Yuujou
Lyrics: Miura Yoshiko
Composition: Tsunku
Arrangement, Programming, & Guitar: Takahashi Yuichi
Chorus: CHINO
Vocals

Maeda Yuuka, Ogawa Saki (Main Vocals)
Wada Ayaka, Fukuda Kanon (Minor Vocals)
The title would normally be read as "Yumemiru Juugosai", but in this case it is officially read as "Yumemiru Fifteen".
This was S/mileage's highest selling single until the release Onaji Jikyuu de Hataraku Tomodachi no Bijin Mama.
This is their first single released under Hachama.
It is one of music videos for a single that has over 1,000,000 views on S/mileage's official youtube channel
It awarded Best New Artist Award of the Year at the 52nd Japan Record Awards[1]
Single
| Mon | Tue | Wed | Thu | Fri | Sat | Sun | Week Rank | Sales |
| --- | --- | --- | --- | --- | --- | --- | --- | --- |
| - | 5 | 11 | 8 | 14 | 6 | 5 | 5 | 20,438 |
| 14 | 48 | - | - | - | 13 | - | 34 | 2,617 |
| - | - | - | - | - | 24 | - | 58 | 1,446 |
| - | - | - | - | - | - | - | 149 | 415 |
Total Reported Sales: 24,936
Single V
| Mon | Tue | Wed | Thu | Fri | Sat | Sun | Week Rank | Sales |
| --- | --- | --- | --- | --- | --- | --- | --- | --- |
| - | 4 | 7 | 5 | 7 | 8 | 13 | 7 | 2,022 |
| - | - | - | - | - | - | - | 28 | 524 |
Total Reported Sales: 2,546
References
Edit
External Links
Edit