Yokoyama Reina
横山 玲奈

Yokoyama Reina promoting "Are you Happy?"
Background Information
Also Known As
Yokoyoko (

よこよこ

?

)
Yokoyan (

よこやん

?

)
Born
February 22, 2001
Origin
Saitama, Japan
Blood Type
O
Zodiac Sign
Pisces
Height
152.5cm
Genres
J-Pop
Occupation
Idol
Years Active
2016-present
(1 years)
Agency
UP-FRONT PROMOTION (2016-)
Label
UP-FRONT WORKS
Associated Acts
Morning Musume, Hello Pro Kenshuusei
Blog
Morning Musume '17 13ki Official Blog
Morning Musume Information
Joined
December 12, 2016
Generation
13th Generation
Member Color

     

 Golden Yellow
Debut Single
BRAND NEW MORNING / Jealousy Jealousy
Time in Group
1 Year, 6 Months, 4 Days
Hello Pro Kenshuusei Information
Joined
August 2016
Generation
26th Generation
Left
December 12, 2016
Graduated
December 23, 2016

Yokoyama's Autograph
"
My goal for this year is expressed in the kanji 華 (flamboyance). From 2017, I'll be active as a 13th member of Morning Musume. So I'd like to do my best that I'll grow gradually through lessons and concerts, to the point where I'll be able to pull of a brilliant performances that won't lose to the seniors.[1]
"

–Yokoyama Reina, January 2017
Yokoyama Reina (横山玲奈) is a Japanese pop singer under Hello! Project as a 13th generation member of Morning Musume. She first joined Hello! Project as a member of Hello Pro Kenshuusei on August 17, 2016,[2] and was formally introduced at the Kenshuusei recital on September 4, 2016.
Biography
Edit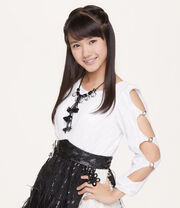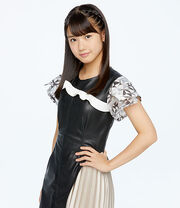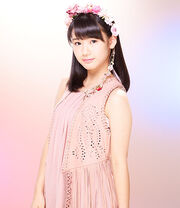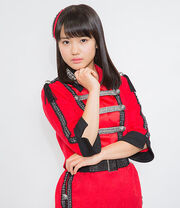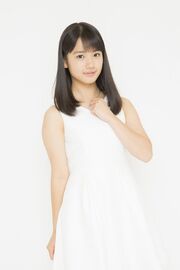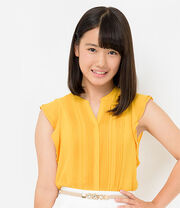 Early Life
Edit
Yokoyama Reina was born February 22, 2001 in Saitama, Japan.
Yokoyama participated in the first Morning Musume '16 Shinseiki Audition, but failed in the third round.[3][4]
On August 17, it was announced on the Hello! Project website that Yokoyama had joined Hello Pro Kenshuusei, alongside Kawamura Ayano, Yoshida Marie, Nishida Shiori, Yamazaki Yuhane, Hashisako Rin.[2] She was introduced at Hello! Project Kenshuusei Happyoukai 2016 9gatsu ~SINGING!~ on September 4.
From November 3 to November 30, Yokoyama participated in the Engeki Joshibu musical Nega Poji Poji.
On December 12, during the finale of Morning Musume '16's fall tour, she was announced as a member of the 13th generation alongside Kaga Kaede.[5][6][7] She and Kaga had their last performance as Hello Pro Kenshuusei members at the Hello! Project Kenshuusei Happyoukai 2016 12gatsu ~EXCITING!~.
On February 21, Yokoyama and Kaga Kaede held their debut fanclub event, Morning Musume '17 13ki Member FC Event, at Differ Ariake.
On March 2, Kaga and Yokoyama began a web talk show exclusive to fanclub members, titled Reversible Radio.[8] They also began a radio show with the 12th generation members on April 6, titled Morning Musume '17 no Morning Diary.[9]
On July 28, Yokoyama released a digital song with Funaki Musubu titled "Minmin Rock 'n' Roll!".
On December 9, she was announced as the new regular on the radio show Young Town Doyoubi, taking over Kudo Haruka's position after she graduates.[10]
On February 22, Yokoyama celebrated her 17th birthday at a fanclub titled Morning Musume '18 Yokoyama Reina Birthday Event, which featured two shows at Shinjuku ReNY.
On April 21, she announced that she will release her first solo photobook on June 27, titled THIS IS REINA.[11][12] Then on July 4, she will release her first solo image Blu-ray First REINA YOKOYAMA.[13]
Personal Life
Edit
Yokoyama has a younger brother.[14]
When she joined Morning Musume in December 2016, she was a first year high school student.[15] As of April 2018, Yokoyama is currently in her last year of high school.
The following list are notable friendships Yokoyama Reina has acquired:
Yokoyama's given name, Reina, is said to be taken from the phrase "kirei na houseki" (きれいな宝石; beautiful jewel).[17]
Here is a list of nicknames that are used to refer to Yokoyama Reina:
Name: Yokoyama Reina (横山玲奈)
Birthdate: February 22, 2001
Birthplace: Saitama, Japan
Blood Type: O
Height: 152.5cm
Western Zodiac: Pisces
Hello! Project Status:
UP-FRONT PROMOTION Status:
Morning Musume Member Color:

Golden Yellow

(2017-Present)

Hello! Project Groups:
Hobbies: Listening to music, dancing, singing[5]
Specialties: Playing various instruments such as the saxophone, jazz dance[5]
Favorite Music Genre: J-pop
Favorite Food: Shougayaki, spring rolls[23]
Favorite Sports: Dance, soccer
Charm Points: Her bangs, her eyes, her loud laughing, sneezing, her smile[23]
Motto: Jikan wo taisetsu ni! (時間を大切に!; Time is important!)
Favorite Hello! Project Songs: "Osu! Kobushi Tamashii," "The Vision", "Egao no Kimi wa Taiyou sa",[17] "Souda! We're ALIVE"[17]
Looks Up To: Oda Sakura, Hirose Ayaka, Michishige Sayumi[17]
Discography
Edit
Solo Blu-rays
Edit

Publications
Edit
Solo Photobooks
Edit

Magazines
Edit
Featured on the cover
Edit

TV Programs
Edit
[2017–] Morning Musume '17 no Morning Diary (モーニング娘。'17のモーニングダイアリー)
[2017–] Young Town Doyoubi (ヤングタウン土曜日)
In middle school she wanted to form a band and tried inviting her friends to join, but nobody was interested and after her guitar broke she lost interest in forming one.
She participated in brass instruments clubs in both elementary and middle school, in which she played percussion and sax respectively.
She learned to play piano at home.
Her future goal is become a cool idol like her seniors.
She is the first of her Hello Pro Kenshuusei generation to debut.
She shares her birth name with former 6th generation Morning Musume member Tanaka Reina and Hello Pro Kenshuusei member Ichioka Reina.
Oda Sakura took Yokoyama with her to eat New Years soba and learned about her hobbies.
Yokoyama answered what she likes about each Morning Musume '17 member on her blog:[24]
Kamen Rider was her favorite TV series while growing up. Her recent favorite character is Kamen Rider Fourze and she is good at imitating Kamen Rider Meteor.[24]
She said her favorite music video is "Egao no Kimi wa Taiyou sa", she watched it on repeat because Sayashi Riho's wink is really cute.
If she could be reborn as someone else, she would be Tanaka Reina because her name would be the same and Tanaka is a strong singer.[17]
She believes she is the Hello! Project member with the most knowledge and experience with various musical instruments such as the guitar, saxophone, and piano.[17]
If she did not become an idol, she would want to become a school teacher, specifically a history teacher because she loves history and wants to share with students how interesting it is.[17]
References
Edit
External Links
Edit