Ad blocker interference detected!
Wikia is a free-to-use site that makes money from advertising. We have a modified experience for viewers using ad blockers

Wikia is not accessible if you've made further modifications. Remove the custom ad blocker rule(s) and the page will load as expected.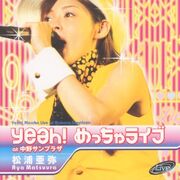 Yeah! Meccha Live at Nakano Sun Plaza
(Yeah!めっちゃライブat中野サンプラザ) is
Matsuura Aya
's second concert tour video release. It was released on December 19, 2003. It peaked at #2 on the Oricon weekly charts and sold 31,765 copies.
Opening "Yeah! Meccha Holiday" Opening Theme (オープニング 「Yeah! めっちゃライブ」オープニング・テーマ)
The Bigaku (The 美学)
MC1
Tropica~l Koishite~ru (トロピカ〜ル恋して〜る)
Tsumannai yo... (つまんないよ・・・)
MC2
Gatamekira (ガタメキラ) - Matsuura Aya, Inaba Atsuko, Melon Kinenbi
MC3
Sougen no Hito (草原の人)
100kai no KISS (100回のKISS)
Oshare! (オシャレ!)
OO -Joshi Kousei no Shuchou- (○○-女子校生の主張-)
Kousui (香水) - Melon Kinenbi
Saa! Koibito ni Narou (さぁ! 恋人になろう) - Melon Kinenbi
Watashi no Sugoi Houhou (私のすごい方法)
I know
MC4
Hajimete Kuchibiru wo Kasaneta Yoru (初めて唇を重ねた夜)
MC5
♡Momoiro Kataomoi♡ (♡桃色片想い♡)
Zettai Tokeru Mondai X = ♡ (絶対解ける問題 X=♡)
LOVE Namida Iro (LOVE涙色)
MC6
Yeah! Meccha Holiday (Yeah!めっちゃホリディ)
<ENCORE>
MC7
Dokki Doki LOVE Mail (ドッキドキ!LOVEメ−ル)
MC8
Egao ni Namida ~THANK YOU! DEAR MY FRIENDS~ (笑顔に涙〜THANK YOU! DEAR MY FRIENDS〜)
Ending The Bigaku (エンディング The 美学)
Omake The Bigaku / I know / Sougen no Hito (おまけ The 美学/I know/草原の人)