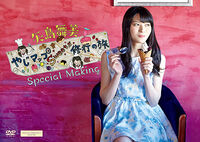 Yajimap Sweets Shugyou no Tabi (やじマップSweets修行の旅; Yajimap Sweets Studying Journey) is Yajima Maimi's first solo monograph. It was released on April 27, 2015. A special edition DVD of the book's making of was released through e-LineUP! on June 26, 2015.
DVD Tracklist
Edit
Daikanyama (代官山)
Azabu Juban (麻布十番)
Kichijoji (吉祥寺)
Yanesen (谷根千)
Yokohama (横浜)
Jiyugaoka (自由が丘)
Kamakura (鎌倉)
Tokyo Eki Shuhen (東京駅周辺; Around Tokyo Station)
Asakusa (浅草)
Ikebukuro (池袋)
Ending
External Links
Edit
Ad blocker interference detected!
Wikia is a free-to-use site that makes money from advertising. We have a modified experience for viewers using ad blockers

Wikia is not accessible if you've made further modifications. Remove the custom ad blocker rule(s) and the page will load as expected.