Yaguchi Mari
Comments

0
1,768pages on
this wiki
Yaguchi Mari
矢口真里

Birth Name

Yaguchi Mari (矢口真里)

Also known as

Marippe (まりっぺ), Yagu-chan, Yaguttsan (やぐっつぁん), Yaguchorina and Oya-bin

Born

January 20, 1983 (age 30)

Origin

Yokohama, Kanagawa Prefecture, Japan

Genre

Japanese Pop

Occupation

Actress, singer, and TV personality

Years active

1998-present

Label

Zetima

Associated Acts

Family

Husband
Yaguchi Mari (矢口真里, Legal Name: Nakamura Mari (中村真里) is a singer, actress, and TV personality. She was a former second generation member and leader of Morning Musume. In 2009, she graduated with the rest of the Elder Club from Hello! Project. She has since released two singles and is now part of the OG member group called Afternoon Musume and Dream Morning Musume.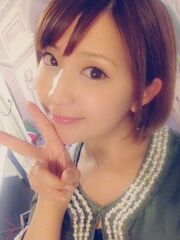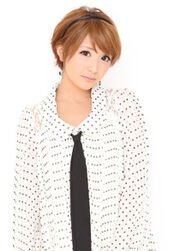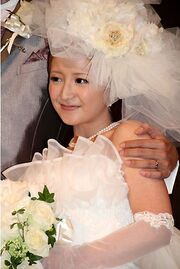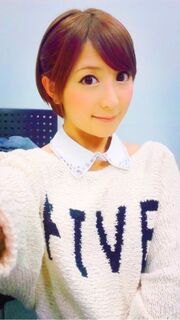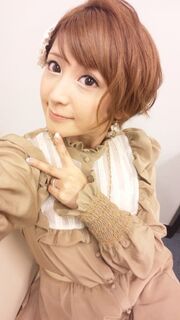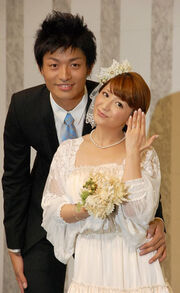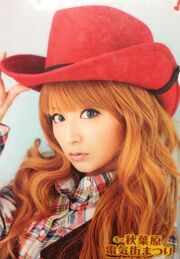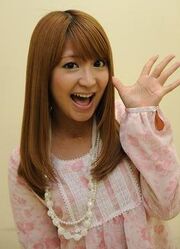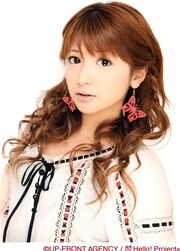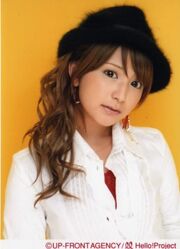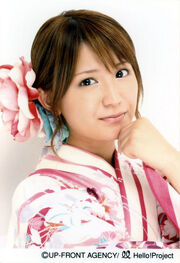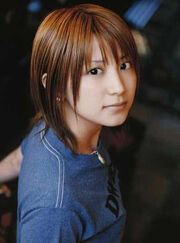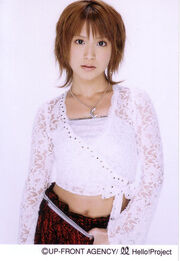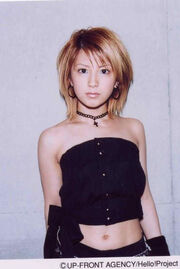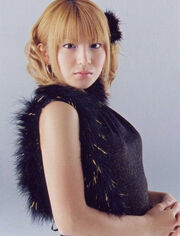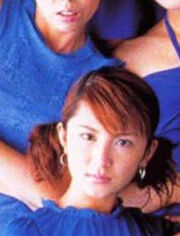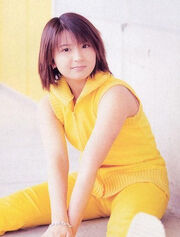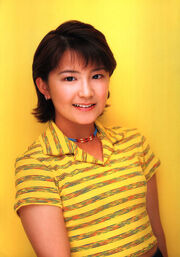 Biography
Edit
On May 3, she, along with Yasuda Kei and Ichii Sayaka, were chosen to be a part of the second generation of singers to be recruited into Morning Musume.
On November 18, she debuted with Morning Musume first sub-group Tanpopo.
She made her first movie debut in the movie Morning Cop, alongside the other Morning Musume members and Hello! Project soloist Heike Michiyo.
On October 20, she created and formed Morning Musume sub-group Minimoni. She had an idea for a subgroup whose members were 1.5 m (4 ft 11 in) in height or shorter. Yaguchi, and Morning Musume's songwriter and producer Tsunku, selected two of Morning Musume's newest members, Kago Ai and Tsuji Nozomi, for the new subgroup and the trio began performing in concerts as Minimoni. American-born Mika Todd of Coconuts Musume was later added into the group to give the group "an international flavour" and Tsunku made them official. Their debut single, Minimoni. Jankenpyon! / Haru Natsu Aki Fuyu Daisukki!, was a #1 hit. She also had a supporting role in another movie called Pinch Runner alongside the other Morning Musume members.
On February 7, she released her first photobook titled Yaguchi.
She starred in another movie called Nama Tamago alsonside, Iida Kaori, Tsuji Nozomi, & Goto Maki. The movie was released on VHS format on March 15 and later on DVD format on May 15.
Yaguchi became Morning Musume's sub-leader in May, after the graduation of Yasuda Kei.
On March 29, she graduated Minimoni, having Mika Todd replace her as leader. The group only lasted another year till Mika Todd's graduation from the group.
In July, she debuted with ZYX as leader. In ZYX, Yaguchi acted as a mentor to the Hello! Project Kids, showing them the ropes of being a performing member of Hello! Project. ZYX was the first unit that Hello! Project Kids officially joined.
She also made a guest appearance in one episode of the drama Kochira Hon Ikegami Sho.
She released two more photobooks, one titled Love Hello! Mari Yaguchi, part of a idol DVD she had. The other being Pocket Morning Musume, Volume 2, which also features Abe Natsumi, Goto Maki, and Iida Kaori.
On October 10, she released her first essay book entitled Oira - MARI YAGUCHI FIRST ESSAY.
On January 30, after the graduation of Iida Kaori, Yaguchi became leader and Yoshizawa Hitomi then became her support as sub-leader.
On April 14, it was reported by tabloid magazine FRIDAY that Yaguchi was in a relationship with actor Oguri Shun. She said she had "betrayed [her] position as an idol" and that she "want[ed] to move on with [her] career as an adult." As such, Yaguchi resigned from Morning Musume without a graduation ceremony.
Her first post-Morning Musume recording, Nigiyaka na Fuyu, done as a collaboration with Berryz Koubou, appears as the coupling track on Berryz Koubou's November 2005 single Gag 100 Kaibun Aishite Kudasai.
In April, it was reported that Yaguchi and Oguri have broken up.
In 2006, she continues to appear on television and at live events on behalf of Hello! Project. She also co-hosts two weekly TV shows of her own (Yaguchi Hitori and Kanrui! Jikuu Times), has starred in two dramas, and frequently guest stars on other variety shows.
At the start of 2007, she has started to sing during Hello! Project concerts again.
In summer, Yaguchi was casted to host a new Gyao TV show, Midtown TV, becoming her third tv-show on air. Midtown TV airs all weekdays and Yaguchi hosts it on Thursdays. Also, Mari and seven H!P Eggs are scheduled to appear live and with audience on Ciao TV, a Kids Station show, on September 2, from 19:00 to 19:30, on what appears to be yet a new TV show for her, which makes four Yaguchi Mari TV shows being aired simultaneously.
Yaguchi was the drama queen in a Japanese drama series called Sento no Musume!? (銭湯の娘!?, daughter of public bathhouse), Yaguchi was one of the main stars in a Japanese day time drama series called Gyarusa (ギャルサ, Gal Circle), along with her show Yaguchi Hitori, and MCing Hello! Project concerts. From May 25, and up to June 6, Yaguchi performed in Damn Yankees, a popular 1955 Broadway musical at the Tokyo Aoyama Theater.
Yaguchi Mari participated in the Minna no Fitness event on April 27. Minna no Fitness is a free internet workout. When asked about the comebacks of former Hello! Project members Goto Maki and Kago Ai, she replied that she hasn't been in contact with them and doesn't know any of the details.
It was announced on October 19, on the official Hello! Project website, that Yaguchi will graduate from the Elder Club Hello! Project all together on March 31, 2009.
She graduated with the rest of the Elder Club at a graduation concert was held at Yokohama Arena on February 1.
Yaguchi Mari's debut solo single is a collaboration with the TV show Quiz Hexagon, which has brought us the popular groups Pabo and Shuchishin. This will be the first solo release from Mari. The single is also a collaboration with Airband, and includes a randomly chosen photo card of either Mari or Airband. Yaguchi performed her new single live for the first time on Quiz Hexagon last night. It was an emotional performance for Mari who had not sung on live television in over four years.
In April, it was announced that Yaguchi will now be writing a "blog-like" column in Famitsu, one of the most respected video game magazines in Japan and the world. She will be talking about how girls are also passionate gamers. The column will also feature photos of Yaguchi. The column was said to be released on May 1st. The column will be titled "I'm a Gamer".
In November, Yaguchi Mari has been made into a CG (computer graphic) character for a Yakuza themed video game titled Ryuu ga Gotoku: Densetsu wo Tsugumono. [1]
In December, the cover for Yaguchi Mari to Straw Hat's single titled Kaze o Sagashite had been released. "Yaguchi Mari to Straw Hat" is the name of the Hexagon family unit for the song which features Yaguchi as the main singer. The song was used for the opening of the anime One Piece. [2]
In February, Yaguchi announced on her blog that she will produce a restaurant called Shabushabu Onyasai Roppongi. The restaurant will open on March 19. She has mentioned on her blog that she has been fussing about the interior design, sampling food from the new menu, suggesting new menu ideas, working on staff uniforms and even working on a new uniform for her, so it seems that the restaurant will be suited to Yaguchi's personality. [3]
On Yaguchi's Blog, it was said she and Maeda Yuuka will be in a movie titled Hoshisuna no Shima no Chiisana Tenshi ~Mermaid Smile~.
In March, It was revealed that Yaguchi Mari, Satoda Mai and Michishige Sayumi are to be regulars on the midnight TBS show Aimai na!. The air date was set on April 19th.
Also in March, Yaguchi also opened up a Gree blog.
In June, Yaguchi will be a regular on a local Nagoya show titled Go! Bungee Police along with Wada Ayaka. The show will start on 7/6.
In August, It was announced that Yaguchi Mari and S/mileage will appear on Downtown DX. The show will air on September 9th. [4]
On August 7, Mari joined the new promotional unit called Afternoon Musume with 7 other OG members for the Georgia coffee drinks.
On January 2, some media outlets reported that ex-Morning Musume member Yaguchi Mari will be getting married to her boyfriend, Nakamura Masaya. According to a related source, Yaguchi has already said that she would be getting married, and now she needs to report her marriage and decide the day to register the marriage.
On January 28, It was announced that Mari was part of the OG member group Dream Morning Musume and that they will be releasing the groups first album, called Dreams. 1, on April 20th.
On May 21, it was announced that she had registered her marriage to actor Nakamura Masaya on May 22nd. Originally, the couple planned to marry in March, but, due to the earthquake, their plans were postponed.
On May 22nd, she married Nakamura Masaya.
Upon marriage, she has changed her name to Nakamura Mari, but will continue to use "Yaguchi Mari" as her stage name.
On May 22nd, Yaguchi Mari and actor Nakamura Masaya held a wedding ceremony at St. Grace Cathedral in Aoyama.
On March 2nd and 3rd, Yaguchi participated in SATOYAMA e Yukou ~Forest For Rest~ along with other Hello! Project and UP-FRONT PROMOTION members.
From April 4, to April 9th, Yaguchi participated in the stage play Ikinukukiseki ~Juunenme no Negai.
Birth/Stage Name: Yaguchi Mari (矢口真里)
Legal Name: Nakamura Mari (中村真里)
Date Married: May 22, 2011
Nickname: Marippe (まりっぺ), Yagu-chan, Yaguttsan (やぐっつぁん), Yaguchorina and Oya-bin
Birth date: January 20, 1983 (age 30)
Birthplace: Yokohama, Kanagawa Prefecture, Japan
Blood Type: A
Profession: Actress, singer, and TV personality
Height: 144.8cm (4ft 9in.)
Feet size: 22cm
Weight: 39kg (86lbs)
Hello! Project Status:

1998-05-03: Member
2005-04-14: Left Morning Musume
2009-03-31: Graduated

Years in Morning Musume: 7 Years
Former Morning Musume Color: Light Purple
Former Sakura Gumi Color: Pink
Western Zodiac: Capricorn
Eastern Zodiac: Dog
Education: Seya High School
Talent Agency: Up-Front Works
Hobbies: Playing video games, cooking (just a little), collecting platform shoes
Specialty: Making her mouth into the shape of a heart and fitting inside a boston bag
Impersonations: Ayumi Hamasaki, Chihiro Onitsuka and Michael Jackson
Favorite food: Yakiniku, Bibimbap, cheese, rice, ice, Smoked Shark, Mutton Soup
Favorite colour: White (as of 9th August 2007)
Disliked food: Milk, liver, avocado, green peas
Favorite sport: Table tennis, Badminton
Favorite words: Happy, pure, "Full power!"
Favorite season: Winter
Favorite song: "When You Wish Upon a Star" - Pinocchio
Favorite Morning Musume song: I WISH
Favorite flower: Sunflowers
Hello! Project Groups:
Subgroups:
Shuffle Groups:
Current Groups:
Singles Participated In
Edit
Morning Musume
Edit
Morning Musume Sakura Gumi
Edit
H.P. All Stars
Edit
Dream Morning Musume
Edit
7nin Matsuri
Edit
Discography
Edit
[2009.03.25] Seishun Boku
[2010.01.13] Kaze wo Sagashite
Solo Songs
Edit
Compilations
Edit
Solo DVDs
Edit

Group DVDs
Edit

[2006.11.22] Alo-Hello! Yaguchi Mari & Tsuji Nozomi DVD
Solo Photobooks
Edit
Group Photobooks
Edit
[2003.09.??] Pocket Morning Musume. 〈Volume 2〉 (ポケットモーニング娘。〈Vol.2〉) (With Abe Natsumi, Goto Maki, Iida Kaori)
[2004.11.17] Alo-Hello! Morning Musume Shashin Shuu (アロハロ!モーニング娘。写真集)
Essay Books
Edit
Sources from 矢口真里

All Night Nippon's youngest and shortest radio personality.
Yaguchi Mari's All Night Nippon SUPER!'s achieved 100% middle-school male students listener rating
Love Hello! Yaguchi Mari DVD was the best-selling Idol DVD in Japan
[1998] Morning Cop (モーニング刑事)
[2000] Pinch Runner (ピンチランナー)
[2002] Nama Tamago ( ナマタマゴ)
[2003] Koinu Dan no Monogatari (子犬ダンの物語 )
[2006] One Piece The Movie: Episode of Alabasta: The Desert Princess and the Pirates (ONE PIECE エピソードオブアラバスタ 砂漠の王女と海賊たち) (voice acting)
[2010] Hoshisuna no Shima no Chiisana Tenshi ~Mermaid Smile~ (星砂の島のちいさな天使~マーメイド スマイル)
TV Dramas
Edit
[2003] Kochira Hon Ikegami Sho (こちら本池上署 ) (One episode guest appearance only)
[2006] Sentou no Musume!? (銭湯の娘!? )
[2006] Gal Circle (ギャルサー )
[2004] Yaguchi Hitori Maru C (やぐちひとり(C))
[2006] Kanrui! Jikuu Times (感涙!時空タイムス) (discontinued)
[2007] MIDTOWN TV Official website
[2007] Chao.TV Official website
[2001] Hamtaro Movie 1: Adventures in Ham Ham Land (voice of Gu)
[2002] Hamtaro Movie 2: The Captive Princess (voice of Gu)
[2003] Hamtaro Movie 3: Miracle in Aurora Valley (voice of Gu)
She has a younger sister, former AKIHABARA Backstage pass member Yaguchi Miki.
Yaguchi was the first person from Morning Musume to "resign" due to a scandal. She received no graduation concert, or final performances due to this circumstance, but made it clear that she'll return as a solo artist in 2006.
She was famous for her "Sexy Beam!" line from "Koi no Dance Site" and when she was asked jokingly in Joshi Kashimashi Monogatari, "When will your real sexy beam come out?". The "Sexy beam!" line has made its way around fans and fellow musicians alike.
She is good friends with Yasuda Kei.
After long being out of Morning Musume, she often came out and discussed how Tsuji Nozomi terrorized her in Minimoni and Morning Musume and also said whenever she sees her cry, even till this day, she is not affected by it and thinks she is faking.
She is known and favorited for her exuberant and irreverent personality.
She was also famous for being the smallest member of Morning Musume at only 145 cm (4 ft. 9 in.) and 39 kg (86 lbs.).
She was a member of Tanpopo, one of the first sub groups, and also founded Minimoni. She was also was leader of ZYX and Morning Musume Sakura Gumi after Abe Natsumi graduated. She was also in ROMANS.
When she graduated from Morning Musume, she was the last person to graduate that joined before the year 2000 (Iida Kaori had left about 2 months before).
She currently has the fifth longest tenure of any member, with only Takahashi Ai, Niigaki Risa, Yoshizawa Hitomi and Iida Kaori being in the succeeding her.
This new focus on television prompted Yaguchi, during an interview with actor Hugh Jackman, to jokingly describe herself as a "variety idol". Although she later regretted the joke — because she has tried to distance herself from her idol image — the nickname has stuck amongst her fans.
She is the last one to leave Morning Musume in her Generation
She is the sixth former Morning Musume member to get married, the first being Ishiguro Aya, second being Ichii Sayaka, third being Iida Kaori, fourth being Tsuji Nozomi, and fifth being Fujimoto Miki.
Her short height have been proved to help her in many situations.
Went on a trip to Iceland to film for "What is a Japenese Woman Doing Here?" 
She is a fan of the American TV show Glee and her favorite character is Finn Hudson.
When on a trip yo Russia she got into a taxi and the driver drove off without the staff. The staff had to chase down the taxi to get her back.
When on a trip to Russia she made Matryoshka dolls representing each meber from Yu-chan to Kago Ai.
Honorary Titles
Edit
External Links
Edit