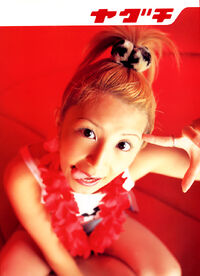 Yaguchi (ヤグチ) is Yaguchi Mari's 1st solo photobook. The photobook was published by Wanibooks on February 7, 2002. The photography was done by Masashi Hashimoto.
Information
Edit
Photobook Title
Edit
The photobook's title is Mari's last name, Yaguchi.
Photobook Content
Edit
The photobook shows Mari filled with plenty of life, showing off her cute and fun side. The photobook captures the many different faces of Mari from cute, to mischievous, to seldom, and to cheerful. It contains her wearing many differently designed and upbeat styles. She released this photobook after joining the sub group Minimoni.
Photobook Preview
Edit
External Links
Edit
Ad blocker interference detected!
Wikia is a free-to-use site that makes money from advertising. We have a modified experience for viewers using ad blockers

Wikia is not accessible if you've made further modifications. Remove the custom ad blocker rule(s) and the page will load as expected.