Ad blocker interference detected!
Wikia is a free-to-use site that makes money from advertising. We have a modified experience for viewers using ad blockers

Wikia is not accessible if you've made further modifications. Remove the custom ad blocker rule(s) and the page will load as expected.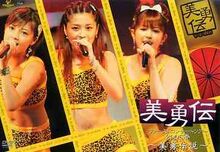 v-u-den First Concert Tour 2005 Haru ~v-u-densetsu~ (美勇伝 ファーストコンサートツアー2005春 ~美勇伝説~) is a DVD release of v-u-den's first concert tour. The concert was filmed live on May 29, 2005 at Tokyo Kosei Nenkin Kaikan. A companion photobook was also released and on special features there are alternate closeup camera angles for songs #14-16. The other artists who attended this contest (besides v-u-den), were Country Musume and Inaba Atsuko.
The DVD reached #3 on the Oricon weekly charts and sold 12,304 copies overall.
OPENING
BABY! Koi ni KNOCK OUT! - Backup dancers: Country Musume, Inaba Atsuko
MC1 - v-u-den, Country Musume & Inaba Atsuko
MC2 - v-u-den & Inaba Atsuko
Champagne no Koi (シャンパンの恋)
Uwaki na Honey Pie - Miyoshi Erika, Country Musume & Inaba Atsuko
Mini Strawberry Pie - Okada Yui, Asami & Miuna
Sakura Mankai - Ishikawa Rika, Satoda Mai
MC3 - Ishikawa Rika & Satoda Mai (Gatas talk)
Ai no Bakayarou - Okada Yui
Aenai Nagai Nichiyoubi - Miyoshi Erika
100kai no KISS - Ishikawa Rika
Senpai ~Love Again~ - v-u-den & Country Musume
Sankaku Kankei - Inaba Atsuko & Country Musume
Girl's Power, Aisuru Power - v-u-den, Country Musume & Inaba Atsuko
Yuujou ~Kokoro no Busu ni wa Naranee!~ - v-u-den, Country Musume & Inaba Atsuko
MC4 - v-u-den
Kacchoii ze! JAPAN (カッチョイイゼ! JAPAN)
ENCORE
MC5
BE ALL RIGHT! - v-u-den, Country Musume & Inaba Atsuko
Ending (with Ajisai BGM)
Multi-angle Close-up Version
Featured Members
Edit
External Links
Edit