v-u-den Concert Tour 2008 Shoka v-u-densetsu V ~Saishuu Densetsu~
Comment

1
Share
Ad blocker interference detected!
Wikia is a free-to-use site that makes money from advertising. We have a modified experience for viewers using ad blockers

Wikia is not accessible if you've made further modifications. Remove the custom ad blocker rule(s) and the page will load as expected.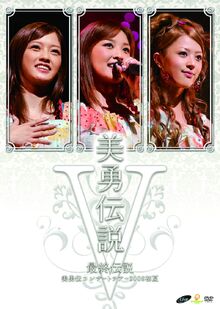 v-u-den Concert Tour 2008 Shoka v-u-densetsu V ~Saishuu Densetsu~ (美勇伝コンサートツアー2008初夏 美勇伝説V ~最終伝説~) was v-u-den's early summer 2008 concert tour. The DVD was filmed on June 29, 2008 at Tokyo Kousei Nenkin Kaikan, the group's final concert before disbanding. The release date was on September 17, 2008.
The DVD reached #6 on the Oricon weekly charts and sold 5,582 copies overall.
Tracklist
Edit
OPENING
MC
MC
MC
Saigo no Natsuyasumi - Okada Yui
Ano Natsu no Yoru - Miyoshi Erika
MC
Omoide wa Kanata - Ishikawa Rika
VTR ("v-u-den Gekijou") (『美勇伝劇場』)
MC
MC
Nanni mo Iwazu ni I LOVE YOU
<ENCORE>
MC
FANTASY
<W ENCORE>
MC
Disc 2 "Back Stage Choice Footage! Filming to v-u-den's Legendary Final Performance!"
Edit
Yokohama Arena
"Nanni mo Iwazu ni I LOVE YOU" CD Jacket Making (「なんにも言わずに I LOVE YOU」CDジャケット撮影)
"Nanni mo Iwazu ni I LOVE YOU" MUSIC CLIP Making (「なんにも言わずに I LOVE YOU」MUSIC CLIP撮影)
v-u-densetsu V ~Saishuu Densetsu~ Rehearsal (美勇伝説V ~最終伝説~ リハーサル)
v-u-densetsu V ~Saishuu Densetsu~ Rehearsal Last Day (美勇伝説V ~最終伝説~ リハーサル最終日)
Osaka Kousei Nenkin Kaikan (大阪厚生年金会館大ホール)
Shibuya C.C. Lemon Hall (渋谷C.C.Lemon Hall)
Aichi Kousei Nenkin Kaikan (愛知厚生年金会館)
Tokyo Kousei Nenkin Kaikan (東京厚生年金会館)
Featured Members
Edit
Tour Schedule
Edit
Date
Time
Prefecture
Venue
June 8, 2008
18:30
Osaka
Osaka Kousei Nenkin Kaikan
June 21, 2008
15:30
Tokyo
Shibuya C.C. Lemon Hall
19:00
June 22, 2008
15:30
Aichi
Aichi Kousei Nenkin Kaikan
19:00
June 28, 2008
15:00
Tokyo
Tokyo Kousei Nenkin Kaikan
18:30
June 29, 2008
14:00
18:00
External Links
Edit