This month's randomly selected member is...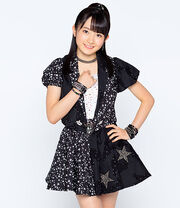 Morito Chisaki (森戸知沙希) was born on February 19, 2000 in Tochigi, Japan. She attended the Star Project Academy dance school.
In spring-summer 2014, Morito participated in the Morning Musume '14 (Golden) Audition! for an opportunity to become a 12th generation member, but failed to join the group.
On November 1, 2014 Morito graduated from CoCoRo Gakuen.
On November 5, 2014 it was announced that Morito was added to Country Musume, now called Country Girls, alongside Yamaki Risa, Inaba Manaka, Shimamura Uta and Ozeki Mai.
On September 8, 2015 Morito released her first solo e-Hello! Blu-ray, Greeting ~Morito Chisaki~.
On February 19, 2017 Morito is frist solo photobook Morito Chisaki.
Ad blocker interference detected!
Wikia is a free-to-use site that makes money from advertising. We have a modified experience for viewers using ad blockers

Wikia is not accessible if you've made further modifications. Remove the custom ad blocker rule(s) and the page will load as expected.