Chinami, Mari, Saki, and Erika

Erika, Kanna, Maimi, and Yurina

Sayumi, Kusumi,and Eri

Aika, Mai, Ai, and Makoto

Reina in a FLIPPIN AWSOME dress

Of course my Fav graduated member wears and AWSOME outfit for the 2007 concert

Eri in another AWSOME outfit

Final Performance of the 2010 winter concert with a close up of Ai, Eri, and Reina

Yuuka at Shuffle Date

Kitty Reina with Momoko and Saki

Wow Momoko! Thats a huge fish u caught!!

C-ute in some Super C-ute Outfits

OMG These are some SUPER C-UTE outfits!!!!!

Chinami as a Princess!

Airi with a cute hair style

C-ute 2009 winter concert

Asami, Chisato, and Mai in 2005

Major Artists from the 2010 winter concert

Aika and Junjun in Cinderella

Miki live!

Berryz Kamen and Cutie Ranger!

Ai in a Chinese Dress

Little Mai!!! Kawaii!!!!!!!

Kanon in the Fankora Dress

Ex-Ceed taking a photo before the show

Hi!!!!!! With Random Pictures!!!!!! (About me is at the bottom. I LUV posting pictures!!!)

Chinami in a SUPER CUTE outfit

Edit
My name is Sakura!!
My friend used to own this account but she moved back to japan to continue her modeling career so i took over the account for her!!! i lived in japan for a little while then moved to the US!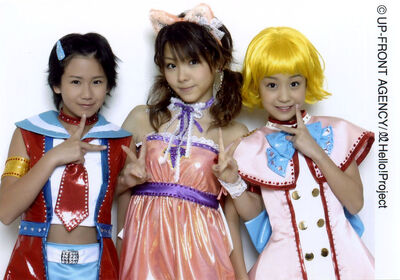 I LOVE H!P!!!!
I'v followed H!P from Morning Musume's creation!!!
My FAVS!!
Graduated Members:
1. Yoshizawa Hitomi
2. Kusumi Koharu
3. Mari Yaguchi
4. Kago Ai
5. Ishimura Maiha
Current Members
1. Saho Akari (Tied for First with Ai)
1. Ai Takahashi (Tied for First with Akari)
3. Maeda Yuuka
4. Wada Ayaka
5. Tanabe Nanami
Units:
1. Minimoni
2. S/mileage
Shugo Chara Egg!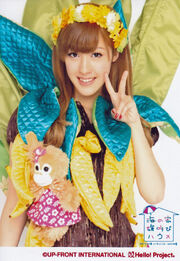 FAV BERRYZ MEMBER: Tokunaga Chinami
FAV C-UTE MEMBER: Nakajima Saki
FAV MOMOSU MEMBER: Ai Takahashi
FAV S/MILEAGE MEMBER: Maeda Yuuka
FAV PRO EGG MEMBER: Saho Akari
Trivia!!!!!
Edit
FAV MOMOSU SONG: I Wish
FAV BERRYZ SONG: Special Generation
FAV C-UTE SONG: Massara Blue Jeans
FAV ERINA SONG: Love&Peace=Paradise
FAV S/MILEAGE SONG: Yume Miru 15sai
FAV ANIME SONG: Happy go Lucky Pri!
FAV SHUFFLE UNIT SONG: GET UP! Rapper
FAV COLOR: Sky Blue
FAV SUBJECT: Art
FAV MANGA: Shugo chara
FAV ANIME: Shugo Chara