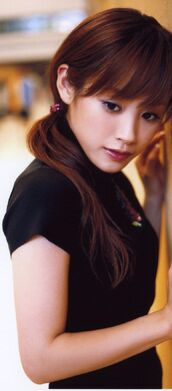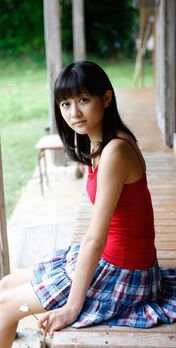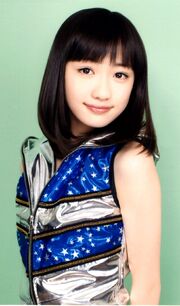 Fan blog my personal blog!
Hello, my name is danhi, aka Hello! pro Arg , i'm a super Hello! Project fan girl I've known H!P for 2.5 years. After discovering Berryz koubou ♥ i discover morning musume before at 6 months i discover °C-ute and S/mileage and before that i listen my first mano eri's song!
I ♥Hello! Project.
Nickname: Danhi, danu
things I love: My Family, My boyfriend, My friends, H!P
Gender: Female
Birthday: may 16
Languages I Speak: English, Spanish
Languages Learning: Japanese
Hobbies: drawing, blogging, music, danceing
Special Skill: Made dance covers!
Strong Point: I do not care much what others thinks of me
Weak Point: sometimes I'm clumsy
Habit: sing or dance when are listen to the music whit headphones
Favorite Drama:

Suugaku♥Joshi Gakuen

​

Favorite Movies:

all Detective Conan movies

Favorite Anime: School of detectives, Detective Conan, nadja, sailor moon, inazuma 11, Dragon ball z
Favorite Word: Natsu~
Favorite Season: Spring
Favorite Food: chocolate, hamburger, pizza
Looks up to: Hello! Pro Kenshuusei
Favorite Color:

Light Blue

Dislikes:

The people who do not know about Japan

Disliked Thing/Thing to do:

Study Maths

Scared of:

Spiders

Known H!P: December 2010 - present
My favorite Groups
Edit
My Favorite Singers
Edit
Ai Takahashi
Tsugunaga momoko
Maimi yajima
Wada Ayaka
Kudo haruka
Nakanishi kana
karin miyamoto
Nakajima saki
Uemura akari
the worst graduations
Edit
I did this despite not lived all these graduations ... because with them suffered far T-T
takahashi ai..because I love Takahashi-san and I think it was and will always be the best leader of haro! pro and morning musume
Ishimura Maiha .. because I think she really did not want to go and I would like see it grow as the other Berryz!
murakami megumi .. because now we know nothing of it and I would like to know more! also I believe that megu its a really good singer
Maeda Yuuka .. because recently just graduated ogawa saki! not good that so often occur graduations T-T
Ai Kago ... I think the truth Aibon was a great singer but behave badly and was fired from the agency should have given only a time of recession
Favorite songs!
Edit
i didn't have favorite singles but I will write all the singles that i know maybe you can recommend me some LOL (This does not include the B-sides)

Natsu Remeber you
BERRYZ FIELDS
Mitologhy ~ai no album~
yurushite-nyan (momochii! solo)
Loving you too much
Kaccho ee!!
Passion E-Cha E-Cha
Bye Bye Mata-ne
Koi wa Hipparidako
Natsu DOKI Lisptics (yajima maimi solo)
ai wa itsumo itsumo
Midnight templation
Yuke! Genki kun (hagiwara mai Solo)
tokai no neon ga odoroku-kurai no utsukushisa ga hoshii (okai chisato solo)
kagayake houkago (Nakajima saki solo)
Kanashiki heaven
Saiko Music
Chokkoto love (S/mileage cover)
Chu! Natsu Party (S/mileage cover)
Aisaretai no ni...
Seishundo man'naka
Watashi no Jidai
Shanimuni Paradise
Jishin motte yume motte tobitastu kara (takahashi ai solo)
Love since 1999 (Takahashi ai and Tsunku)
Moonlight night tsukiyo no band da yo!
Futsuu no shoujo A
Daisuki 100 manten
Shin'nen dake wa tsuranu kitose!
Chikyuu ga naiteiru
namida hitoshizuku
Waratte! You
What's up? ai wa dou na no yo
Be alive
Lalala no pipipi
Dokkan Capriccio
Genki Pikapika!
Ooki hitomi
Loving you forever
HAPPY! Ippuku maru (Takahashi ai solo)
Glory Days
Aozora ga Waratteru
Banzai Jinsei wa mecha Wonderlful!
Kacchoii Uta
Baby Kiss
Warera!
Darling I LOVE YOU!
Koucha no Oishii mise
Watashi ga Obasan ni Natte mo
Twinkle Days
No H!P songs (J&Kpop)
Edit
10nen Sakura
Heavy rotation
Baby! Baby! Baby!
Vegetable song
Pony tail to shushu
Flying Get
Always
Growing of my heart
Secret of my heart
Time after Time
Bang!
Break
Destiny
kimi wa ireba
Truth
Feel your heart
koi wa thrill shock suspense
White reflection
Electro World
Gee
Genie​
​Wanna
We're with you
​meiq~meikyu~make you
​Nazo ga
Magical Lip kiss
​Produce
Favorite concerts
Edit
Hello! project 15 years aniversary krtk no fan matsuri
Fansubs (Spanish)
Edit
i made fansubs but in spanish LOL
Kawaii Cup
Edit
every month on my personal blog I do a poll on who they think is the most kawaii or cute these are some of the results I have received
Kawaii Photos!
Edit
this is my favorite photos I'll upload it so I hope you like ^ - ^