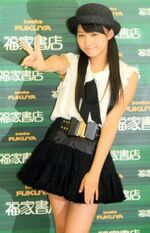 Un deux trois (アンドゥトゥア; One two three) is Sayashi Riho's 2nd solo photo book. It was released August 27, 2012. The ebook edition of the photobook was released on February 27, 2013.
Photobook Preview
Edit
Sayashi Riho held a release event for it on September 9, 2012 at a Tokyo Book Store.
An estimate of about 1,200 tickets were sold at the release event.
The photobook sold less than 559 copies in it's first week, and less than 661 copies in it's second.
It is estimated that the photobook sold over 1,000 copies.
Comment by Sayashi Riho: "With my 1st photo book, I felt I had to force myself to make certain expressions. Now, I'm able to be myself".
External Links
Edit
Ad blocker interference detected!
Wikia is a free-to-use site that makes money from advertising. We have a modified experience for viewers using ad blockers

Wikia is not accessible if you've made further modifications. Remove the custom ad blocker rule(s) and the page will load as expected.