This Page Needs Citation
This article has lack of citations. Please help this wiki community keep honest material by adding reference.

Any out of the ordinary information without references will be removed within 6 months.
"
I would like to improve our performance skills, and raise our level.[1]
"

–Uemura Akari, September 2013
Uemura Akari (植村あかり) is a Japanese pop singer signed to Hello! Project as a member of Juice=Juice. She is also a member of the SATOYAMA Movement unit Sato no Akari. She was first introduced at the 2012 March "Nama Tamago Show!" concert as a member of Hello Pro Kenshuusei.
Biography
Edit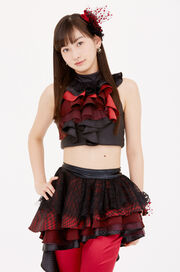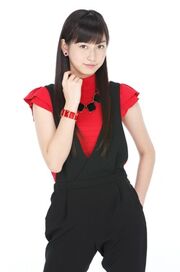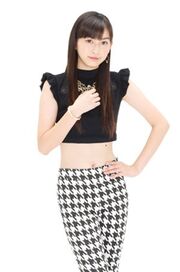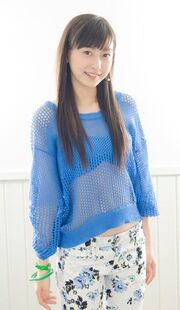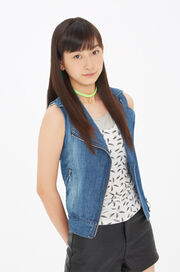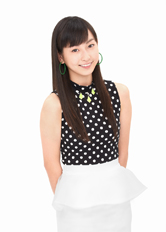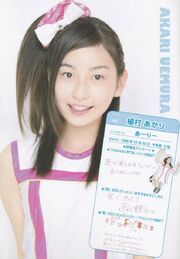 Early Life
Edit
Uemura Akari was born on December 30, 1998 in Osaka, Japan to a couple whose names are undisclosed.
She was a member of Up-Front Kansai prior to Hello Pro Kenshuusei, recieving six months of free training.
In January, Uemura joined Hello Pro Kenshuusei alongside Kosuga Fuyuka. The goal of Hello Pro Kenshuusei is to prepare young girls for their debut into full idols, in the program, Uemura received vocal and dance training.
She was later introduced as a member on March 31 in the Hello Pro Kenshuusei Happyoukai 2012 ~3gatsu no Nama Tamago Show!~ alongside Kosuga, Murota Mizuki and Okamura Rise. She performed Go Girl ~Koi no Victory~, Chokkan 2 ~Nogashita Sakana wa Ookiizo!~, JUMP and Pyocopyoco Ultra.[2]
She then participated in the Morning Musume 11th Generation ~Suppin Utahime~ Audition alongside several other members of Hello Pro Kenshuusei, but failed.
On February 3, during the Bravo! concert in Fukuoka, it was announced that she would be debuting in a new unit, Juice=Juice, alongside Miyamoto Karin, Kanazawa Tomoko, Miyazaki Yuka, Takagi Sayuki and Otsuka Aina.[3]
On February 12, Hello! Project Fanclub News announced that Uemura will be participating in a stageplay titled Moshimo Kokumin ga Shusho o Erandara along with Takahashi Ai, Ishikawa Rika, Wada Ayaka, Fukuda Kanon, and Miyamoto Karin. There will be 11 showings and it will run from April 24th through the 30th.
On March 31, Uemura fell ill with the flu and was unable to participate in the Hello Pro Kenshuusei Happyoukai 2013 ~3gatsu no Nama Tamago Show!~.
On July 20, Uemura appeared solo in Photo Technic Digital.
On December 17, Uemura and Miyamoto Karin had a birthday FC event called, Juice=Juice Miyamoto Karin, Uemura Akari Birthday Event 2013, at Tokyo FM Hall.
On March 13, it was announced that Uemura would be a member of a newly formed SATOYAMA movement unit called Sato no Akari.
Personal Life
Edit
She was raised as an only child. When her father had her, he was 18 years old.
Uemura has a pet bird named Happy, she previously owned another bird named Toppy, but it flew away.
When Uemura debuted as a member of Juice=Juice in February 2013, she was a second year middle school student. As of April 2014, she is currently attending her first year of high school.
The following list are notable friendships Uemura Akari has acquired:
Uemura's given name, "Akari", means light (あかり; akari). It's a feminine Japanese given name and surname.
Here is a list of nicknames that was used to refer to Uemura Akari:
Aarii (あーりー): Official nickname, given her since joining Hello Pro Kenshuusei. Used by members and fans.
Uemuu (うえむー): Kanazawa Tomoko nicknamed her Uemuu. Takagi Sayuki also uses it.[4]
Name: Uemura Akari (植村あかり)
Nicknames: Aarii (あーりー), Akarin (あかりん), Akarinrin (あかりんりん), Uemuu (うえむー)
Birthday: December 30, 1998
Birthplace: Osaka, Japan
Blood type: O
Height: 164.4cm[5]
Western Zodiac: Capricorn
Eastern Zodiac: Tiger
Hello! Project Status:
Years in Juice=Juice: 1 Year
Official Kaomoji: リ|`・_ゝ・)
Juice=Juice Fruit (Member Color):
Hello! Project groups:
Hobbies: Talking with friends
Specialty: Running high jump, Pedometer
Strong Point: Her Kansai dialect
Weak Point: Easily forget something
Scared of: Haunted houses
Favorite Animal: Dogs
Favorite Subject: Japanese language
Favorite Color: Purple and Yellow-green
Favorite Flower: Cosmos
Favorite Food: Strawberries, Pork-flavor ramen, Carbonara, Chocolate
Least Favorite Food: Melon
Favorite Drinks: Cocoa, apple juice
Charm point: Mouth
Favorite Hello! Project Songs: "SHINES", "Aa, Yo ga Akeru"
Looks Up To: Takahashi Ai, Sayashi Riho
Discography
Edit
See Also: Uemura Akari Discography Featured In
Solo DVDs
Edit

Other DVDs
Edit

Magazines
Edit

Honorary Titles
Edit
Honorary titles

Preceded by
First

Youngest member of Juice=Juice
2013 – Present

Succeeded by
Incumbent
References
Edit
External Links
Edit