Ad blocker interference detected!
Wikia is a free-to-use site that makes money from advertising. We have a modified experience for viewers using ad blockers

Wikia is not accessible if you've made further modifications. Remove the custom ad blocker rule(s) and the page will load as expected.
Tokaikko Junjou (都会っ子 純情; City Girl's Pure Heart) is ℃-ute's 3rd single. It was released on October 17, 2007 under the Zetima label in a regular and limited editions. The limited edition features a DVD including its concert video.
On November 28, 2007, the single sold 38,085 copies, making it their highest-selling single until Kimi wa Jitensha Watashi wa Densha de Kitaku in 2012. No lines were replaced when ℃-ute became a 5-nin, but Okai Chisato had to switch sides when singing the chorus lines.
Description
Edit
The selected lead singer for Tokaikko Junjou is Suzuki Airi. The minor vocals for the song are Hagiwara Mai and Nakajima Saki, they get 3 and 2 solo lines. Yajima Maimi also gets a solo line and 2 paragraphs of soliloquy. The dance performance designates Suzuki Airi, Hagiwara Mai and Nakajima Saki as choreographical centre, but in the chorus and the middle of the song, Suzuki Airi and Yajima Maimi are the center positions.
Tracklist
Edit
Tokaikko Junjou
Shiritsu Kyougaku (私立共学; Private School)
Tokaikko Junjou (Instrumental)
Limited Edition DVD
Edit
Interview (インタビュー)

Umeda Erika
Yajima Maimi
Nakajima Saki
Suzuki Airi
Okai Chisato
Hagiwara Mai
Arihara Kanna

°C-ute Cutie Circuit 2007 ~MAGICAL CUTIE TOUR~ Digest Meguru Koi no Kisetsu (Cutie Circuit 2007 ~MAGICAL CUTIE TOUR~ ダイジスト めぐる恋の季節)
Tokaikko Junjou (PV)
Tokaikko Junjou (Dance Shot Ver.)
Making of (メイキング映像)
Tokaikko Junjou (Interview)
Tokaikko Junjou (Live Ver.) ~2007.09.30 at Yokohama BLITZ ~Yoru Kouen no Moyou wo Shuuroku~
Tokaikko Junjou (Close-up Ver.)
Featured Members
Edit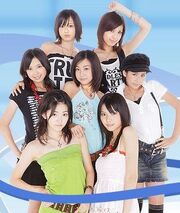 TV Performances
Edit
Concert Performances
Edit
Tokaikko Junjou
Single Information
Edit
Tokaikko Junjou
Shiritsu Kyougaku
Single Monthly Ranking
Mon
Tue
Wed
Thu
Fri
Sat
Sun
Week Rank
Sales
-
3
7,247
3
2,873
3
1,796
2
2,185
5
9
3
27,943
5
15
15
13
14
14
24
17
8,146
19
-
-
-
-
-
-
65
1,509
-
-
-
-
-
-
-
159
487
Yearly Ranking
| Year | Year Rank | Sales |
| --- | --- | --- |
| 2007 | 207 | 38,085 |
Total Reported Sales: 38,085
Single V
| Mon | Tue | Wed | Thu | Fri | Sat | Sun | Week Rank | Sales |
| --- | --- | --- | --- | --- | --- | --- | --- | --- |
| - | - | - | - | - | - | - | 4 | 5,308 |
| - | - | - | - | - | - | - | - | 1,285 |
Total Reported Sales: 6,593
Additional Videos
Edit
References
Edit
External Links
Edit
℃-ute
Concerts & Events

Concerts

Spring Tours: 2007 (Hajimatta yo! Cutie Show, Golden Hatsu Date) | 2009 | 2010 | 2011 | 2012 | 2013 | 2014 | 2015 | 2016


Summer Tours: 2008 | 2009 | 2010
Fall Tours: 2007 | 2013 (Budokan, Regular Tour) | 2014 | 2015 | 2016
Winter Tours: 2012-2013 | 2017
Other: 2006 | 2007 | 2008 (LOVE Escalation!, ℃-ute no Hi) | 2009 (℃-ute no Hi, FIVE) | 2010 | 2011 (Kiss me Aishiteru, ℃-ute no Hi) | 2012 | 2013 | 2014 (Spring Naruchika, Taipei, ℃-ute no Hi, Fall Naruchika) | 2015 (Spring Naruchika, ℃-ute no Hi, Mexico, Winter Naruchika) | 2016 (Hong Kong & Taipei) | 2017 (Naruchika)

Other Concerts & Events
Joint Concerts
Spring Tours: 2008 (with Berryz Koubou) | 2011 (with S/mileage)


Fall Tours: 2011 (with Berryz Koubou) | 2013 (with S/mileage)
Other: 2014 (with Berryz Koubou)

Hello! Project Concerts
Summer Tours: 2009 | 2010 | 2011 (WOW WOW, YEAH YEAH) | 2012 (Ktkr, Wkwk) | 2013 (Sorezore!, Mazekoze!) | 2014 | 2015 | 2016


Winter Tours: 2010 (Mobekimasu!) | 2011 (A-gana, B-kkuri) | 2012 (Funky-chan, Rock-chan) | 2013 (Viva!, Bravo!) | 2014 (GOiSU MODE, DE-HA MiX) | 2015 | 2016 | 2017
Hina Fest: 2013 (Zen'yasai, Berryz Koubou 10 Nenme Totsunyuu Special, Thank You For Your Love!) | 2014 | 2015 | 2016
Other Concerts: Hello! Project ☆ Festival 2011 | Hello! Project Yaon Premium Live ~Soto Fest~ | Hello! Project COUNTDOWN PARTY 2013 ~GOOD BYE & HELLO!~ | Hello! Project COUNTDOWN PARTY 2014 ~GOOD BYE & HELLO!~ | Berryz Koubou Matsuri | Hello! Project COUNTDOWN PARTY 2015 ~GOOD BYE & HELLO!~