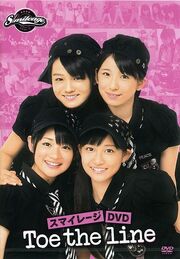 Toe the line is a DVD documenting the history of S/mileage from their formation to the release of their first three indies singles. It was released on January 31, 2010 and sold during the "S/mileage Mega Bank vol.0" fan club event.
Tracklist
Edit
Shin Unit Tanjou (新ユニット誕生)
Indies 1st Single "aMa no Jaku" Micchaku Eizou (インディーズ1stシングル「ぁまのじゃく」密着映像)
Indies 2nd Single "Asu wa Date na no ni, Imasugu Koe ga Kikitai" Micchaku Eizou (インディーズ2ndシングル「あすはデートなのに、今すぐ声が聞きたい」密着映像)
Indies 3rd Single "Suki-chan" Micchaku Eizou (インディーズ3rdシングル「スキちゃん」密着映像)
Ad blocker interference detected!
Wikia is a free-to-use site that makes money from advertising. We have a modified experience for viewers using ad blockers

Wikia is not accessible if you've made further modifications. Remove the custom ad blocker rule(s) and the page will load as expected.