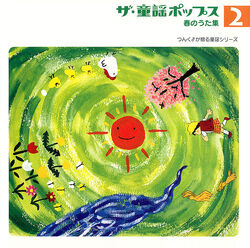 The Douyou Pops 2 Haru no Uta Shuu (ザ・童謡ポップス2 春のうた集; The Popular Children's Songs 2 Spring Song Collection) is the second album in the Douyou Pops series. The series features miscellaneous Hello! Project members covering popular children's songs. The album was released on February 20, 2002.
A PV for "Oomakiba wa Midori" is featured on Hello! Project Douyou Eizou Shuu ~Ponkikies21~.
Tracklist
Edit
Do-Re-Mi no Uta (ドレミの歌; Do-Re-Mi Song) - Takahashi Ai, Heike Michiyo, Satoda Mai, Mika, Lehua, Saito Hitomi
Haru ga Kita (春が来た; Spring Has Come) - Kago Ai, Heike Michiyo, Saito Hitomi
Tulip (チューリップ) - Ogawa Makoto, Ishii Rika
Ureshii Hinamatsuri (うれしいひなまつり; Happy Doll Festival) - Konno Asami, Matsuura Aya, Ishii Rika
Haru no Ogawa (春の小川; Spring Brook) - Goto Maki, Lehua, Ishii Rika, Fujimoto Miki
Mikan no Hanasaku Oka (みかんの花咲く丘; Orange Blossom Hill) - Inaba Atsuko, Satoda Mai, Ishii Rika, Fujimoto Miki
Sakura Sakura (さくらさくら; Cherry Blossom Cherry Blossom) - Yoshizawa Hitomi, Ishii Rika
Hana (花; Flowers) - All
Koinobori (こいのぼり) - Abe Natsumi, Asami
Choucho (ちょうちょ; Butterfly) - Tsuji Nozomi, Rinne, Murata Megumi, Otani Masae
Oomakiba wa Midori (おお牧場はみどり; Green Pastures) - Yasuda Kei, Rinne, Mika, Murata Megumi, Maeda Yuki, Ishii Rika
Chatsumi (茶摘み; Tea Picking) - Iida Kaori, Satoda Mai, Ayaka
Shabondama (シャボン玉; Soap Bubbles) - Niigaki Risa, Heike Michiyo
Mori no Kuma-san (森のくまさん; The Bear in the Forest) - Ishikawa Rika, Inaba Atsuko, Asami, Ayaka, Otani Masae, Shibata Ayumi, Fujimoto Miki
Seikurabe (背くらべ; Back Then) - Yaguchi Mari, Shibata Ayumi, Maeda Yuki, Fujimoto Miki
Aogeba Toutoshi (仰げば尊し; With an Eternally Grateful Heart) - Heike Michiyo, Inaba Atsuko, Country Musume, Coconuts Musume, Melon Kinenbi, Maeda Yuki, Ishii Rika, Fujimoto Miki
Featured Members
Edit
External Links
Edit
Ad blocker interference detected!
Wikia is a free-to-use site that makes money from advertising. We have a modified experience for viewers using ad blockers

Wikia is not accessible if you've made further modifications. Remove the custom ad blocker rule(s) and the page will load as expected.