Tanaka Reina
田中れいな


Solo Photobook by

Tanaka Reina

Released
November 11, 2004
Publisher
Wani Books
Photographer
Yoshimura Kasumi

Tanaka Reina

Publication Chronology
Next
Reina
(2005)
Tanaka Reina (田中れいな) is Tanaka Reina's first solo photobook. It was published by Wani Books on November 11th 2004. The photobook comes with a poster.
The title of the photobook is named after the featured model, Tanaka Reina and was publish on her 15th birthday.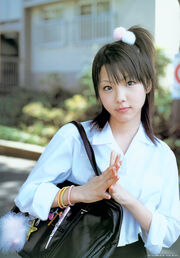 Photobook Preview
Edit
Photobook Information
Edit
Photographer: Yoshimura Kasumi (吉村春海)
Stylist: Toyama Yukari (外山由香里)
Hair & Makeup: Yamauchi Masahiro (山内勝博) (Ala)
Art Direction: Irie Azusa (入江あづさ) (BLANCHIC)
Design: Irie Azusa (BLANCHIC), Nakajima Kensaku (中島健作) (BLANCHIC)
Printing Director: Koshu Hiroyuki (甲州博行), Inoue Yuu (井上優), Funaki Hirofumi (舟木博文)
Photographing Assistant: Yamada Daisuke
Editing: Ichiboji Mai (一坊寺麻衣), Nakamura Mio (中村みを)
Location Coordinator: KAZU Location Service (KAZUロケーションサービス)
Special Thanks: CROSS CLUB, Kingenrou (均元楼), Yokohama Chinatown Development Association
Artist Manager: Funabashi Yuu (舟橋優) (UP-FRONT AGENCY), Yano Izumi (矢野いづみ) (UP-FRONT AGENCY), Nozu Tokuko (野津篤子) (UP-FRONT AGENCY)
Producer: Ogata Eiji (UP-FRONT AGENCY)
Executive Producer: Yamazaki Naoki (UP-FRONT GROUP), Seto Yukio (UP-FRONT AGENCY)
Publisher: Yokouchi Masaaki (横内正昭)
Publishing Office: Wani Books
External Links
Edit