Ciao Bella Cinquetti
(チャオ ベッラ チンクエッティ), formerly known as
THE Possible
(THE ポッシボー) or even sometimes
The Possibooooo
, is a Japanese pop group. The six members of THE Possible were chosen from
Hello Pro Egg
, all members graduated from Hello Pro Egg and Hello! Project on October 7, 2007 when
NICE GIRL Project!
was formed. They have served as backup dancers for
Hello! Project
and
Tokito Ami
.
THE Possible was produced by TNX, published on the Good Factory Record label, and part of NICE GIRL Project!. As of 2015 they have transferred to UP-FRONT CREATE and are on the label PICCOLO TOWN.[1]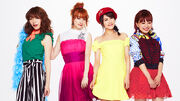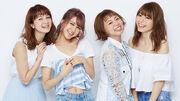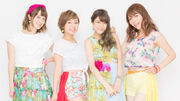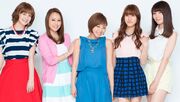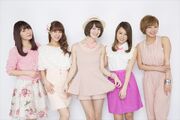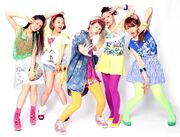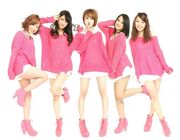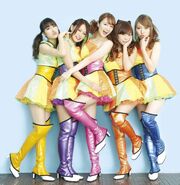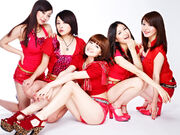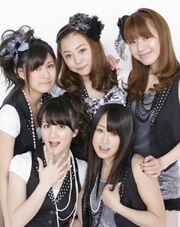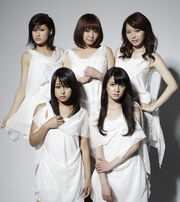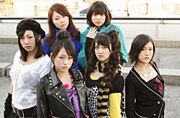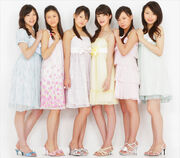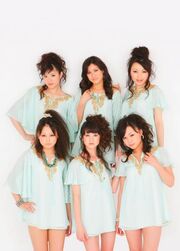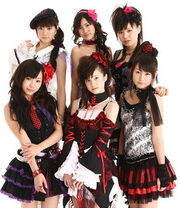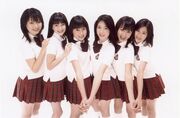 Current Members
Edit
Graduated Members
Edit
Ose Kaede (大瀬楓; Turquoise) (Graduated August 22, 2009)
Akiyama Yurika (秋山ゆりか; 

     

 Purple) (Graduated August 10, 2015)
On August 2, 2006, it was announce during the stageplay "CRY FOR HELP" at Tsunku Town THEATER that Morozuka Kanami, Hashimoto Aina and Akiyama Yurika were debuting in a new Hello Pro Egg unit called "THE Possible." Ose Kaede joined in September and Okada Robin Shoko and Goto Yuki joined on October 1st. The six member group released their first indies single, "Young DAYS!!," on October 22nd and their second indies single, "Hatsukoi no Kakera," on December 10th.
On October 15, THE Possible graduated from Hello Pro Egg and joined the new idol project NICE GIRL Project!, produced by Tsunku and part of TNX.
On February 18, their third indie single Shushoku=GOHAN no Uta., was released.
One June 13, they released two indie singles, their fourth indie single, Natsu no Tropical Musume (sung by Aina and Yurika) and their indie fifth single, Kingyo Hanabi Taikai to Sukui (sung by Robin and Yuki).
Ose Morozuka sang with Tokito Ami on "Tawawa Natsu Bikini".
In August, they released their sixth indie single Kaze no Uwasa, and on November 7 they released their seventh indie single HAPPY! 15.
On February 20, they released their eighth indie single, Love Message!
On April 30, their first major single, Kazoku and no Tegami, was released.
On August 6, their second major single, Ijiwaru Crazy Love, was released.
Sometime in 2009, Tsunku formed a unit with girls from THE Possible, Canary Club, Karen, Peach and Tokki and the group was named was MM Gakuen Gasshoubu. They promoted the anime Gokujou !! Mecha Mote Iinchou.
On June 6, Ohse Kaede announced in her blog that she would be graduating from THE Possible and NICE GIRL Project! on August 22 to focus on her studies. She withdrew from activities on June 15.
On January 7, they released a new single, "Shiawase no Katachi."
On June 2, THE Possible collaborated with Oto no Moto, releasing the single, Yabe~Nabe~ na Atsuryoku Be~na~
On October 6, their fifth major single (a double A-side), entitled Watashi no Miryoku / LOVE2 Paradise, was released.
On November 25, THE Possible released a live single, which were sold only at concerts, Shiawase Hanabi Go Go GOOO! ~ Buchinomese! Dai Pinch! ~.
On March 28, THE Possible released their second studio album, ②Shiawase no Akashi.
On August 29 they released their sixth single Nanja Korya ?! their first single under Victor Entertainment.
It was revealed that THE Possible would be guests at the upcoming Winter Hello! Project concert in 2013. This was the first time in over 5 years that THE Possible would be part of a Hello! Project event.
On April 4th, after 7 years since their formation, 2nd generation member Okada Robin Shouko announced on her blog that she was named leader of THE Possible.[2] Four months later, on August 1, Hashimoto Aina announced in her blog that she was named the sub-leader of the group.[3]
On December 29, it was announced that fans would be able to vote for which song would be featured on THE Possible's next single, to be released March 2014. Fans could choose between six songs and vote on one by voting online, mailing a postcard,  or voting at the venue for a performance by THE Possible.[4] The results of the poll were announced on January 17, 2014, and "Yuuki Super Ball!" was released as their next single with the other five songs used as B-sides for different editions.[4][5]
On July 23, the compilation DVD of all of their PV's from Victor Entertainment was released, it was called "Zenryoku Banzai! My Movie!"
On September 3, their third studio album, "1116," was released.
In mid-January, NICE GIRLS Project! ended and THE Possible transferred to Up-Front Works
On March 4, the DVD and Blu-ray Concert "THE Possible Iwai Japan tour 2014 ~ 8-nen kakarimashita wa ~ FINAL was released.
On June 10 it was announced that as of July 8 they would be renamed to Ciao Bella Cinquetti.[6]
On August 10, it was announced that Akiyama Yurika graduated from the group. The group will continue as a 4 member group.
On April 24, it was announced that Ciao Bella Cinquetti would be disbanding on August 2 with one last live performance. The four members had discussed the disbandment with staff after their performance at Nakano Sun Plaza on January 9, with the reason behind the disbandment being that they had accomplished all that they had wanted as a group and instead want to focus on individual activities.
Discography
Edit
Studio albums
Mini albums
[2011.08.31] 6 Nenme Start!
Best albums
[2008.09.17] Kyuukyoku no THE Possible Best Number Shuu ①
Indies singles
Major singles
Digital Singles
[2017.12.20] Nando mo Nando mo...
Collaboration singles
Live singles
[2007.09.19] THE Possible Hatsu Shuen Kouen!! (THE ポッシボー初主演公演!!)
[2007.09.19] Tokito Ami with THE Possible Live '07 ~Ami Kore Possi Kore(~時東ぁみ with THE ポッシボー ライブ'07~ぁみコレ ポッシコレ~) (With Tokito Ami)
[2008.05.17] THE Possible Live Document DVD -2008.3.3 Yokohama Blitz ~Yokohama ☆ Koi no Catch Ball~ Hatsu Tandoku Live e no Michi- (THE ポッシボー ライブドキュメントDVD-2008.3.3横浜BLITZ~横浜☆恋のキャッチボー~初単独ライブへの道-)
[2009.01.30] THE Possible 2008 Aki ~SEXY Generation~ (THE ポッシボー 2008秋~SEXY ジェネレーション~)
[2009.07.04] THE Possible Live 2009 Haru ~Shiawase no Katachi Kansha no Katachi~ (THE ポッシボーライブ2009春~幸せの形 感謝の形~)
[2012.05.27] THE Possible Tandoku Live 2012 Shiawase no Akashi (THE ポッシボー 単独ライブ2012 幸せの証)
Video collection DVDs
Image DVDs
[2008.03.21] Hajimete no Mizugi DE Possible! in OKINAWA (初めての水着 DE ポッシボー! )
[2008.09.26] Baribari Mizugi DE Possible! ~A Team~ (バリバリ水着DEポッシボー ~Aチーム~)
[2008.09.26] Baribari Mizugi DE Possible! ~B Team~ (バリバリ水着DEポッシボー ~Bチーム~)
[2011.08.02] THE Possible 5 Shuunen Kinen DVD "Gonen Jukusei" (THE ポッシボー 5周年記念DVD「五年熟成」)
Publications
Edit
Photobooks
Edit
[2007.07.13] Doki☆Doki☆Possible (ドキ☆ドキ☆ポッシボー)
[2007.07.13] Kyapi♡Kyapi♡Possible (キャピ♡キャピ♡ポッシボー)
[2008.08.25] Baribari Mizugi DE Possible! (バリバリ水着DEポッシボー!)

[2007.10.15] THE Possible ~Robin to Mahou no Apron~ (THE ポッシボー ~ロビンと魔法のエプロン~; THE Possible ~Robin and the Magical Apron~)

[2016.08.xx] Kessei 10 shuunen Memorial Mook (THE Possible → Ciao Bella Cinquetti 10 Years and The Future Alive 4U!!!!) (結成10周年メモリアル・ムック 『THE ポッシボー → チャオ ベッラ チンクエッティ 10 Years and The Future Alive 4U!!!!』)
[2016.09.09] Ciao Bella Cinquetti 2017 Calendar
Total Sales Count
Edit
| Year | Year Sales | Total Sales |
| --- | --- | --- |
| 2006 | 2,002 | 2,002 |
| 2007 | 34,547 | 36,549 |
| 2008 | 34,786 | 71,335 |
| 2009 | 26,697 | 98,032 |
| 2010 | 10,574 | 108,606 |
| 2011 | 0 | 108,606 |
| 2012 | 8,074 | 116,680 |
| 2013 | 28,424 | 145,104 |
| 2014 | 25,790+ | TBA |
References
Edit
External Links
Edit
Ciao Bella Cinquetti / THE Possible
Current Members

1st Gen: Morozuka Kanami, Hashimoto Aina (SL)
2nd Gen: Okada Robin Shouko (L), Goto Yuki
Former Members

1st Gen: Ose Kaede, Akiyama Yurika
Singles

Indies: 01, 02, 03, 04, 05, 06, 07, 08
Major: 01, 02, 03, 04, 05, 06, 07, 08, 09, 10, 11, 12
Collaboration: 01, 02, 03, 04
Live: 01, 02, 03, 04
Digital: 01
Albums

Original: 01, 02, 03, 04
Mini: 01
Best: 01, 02