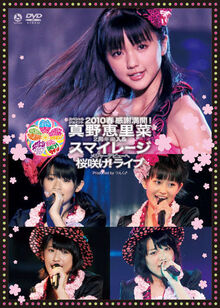 Special Joint 2010 Haru ~Kansha Mankai! Mano Erina 2 Shuunen Totsunyuu & S/mileage Major Debut e Sakura Sake! Live~ ( スペシャルジョイント2010春 ~感謝満開! 真野恵里菜2周年突入 & S/mileage メジャーデビューへ桜咲け! ライブ~) is Mano Erina's and S/mileage's 2010 spring joint tour. The concert DVD was filmed on April 3, 2010 at C.C.Lemon Hall, and was released on June 16, 2010. The DVD ranked at #7 and sold 3,651 copies.
Tracklist
Edit
OPENING
MC1
Otona ni Narutte Muzukashii!!! - S/mileage
Asu wa Date na no ni, Imasugu Koe ga Kikitai - S/mileage
Matsuge no Saki ni Kimi ga Iru - Mano Erina
MC2
Haru no Arashi - Mano Erina
OSOZAKI Musume - Mano Erina
MC3
Yumemiru Fifteen - S/mileage
MC4
aMa no Jaku - S/mileage
Suki-chan - S/mileage
MC5
Otome no Inori - Mano Erina
MC6
MC7
Scenery Rehearsal (リハーサル風景)
Generalprobe Backstage Video (ゲネプロ・バックステージ映像)
Featured Members
Edit
Tour Schedule
Edit
Date
Time
Prefecture
Venue
March 14, 2010
18:30
Osaka
NHK Osaka Hall
March 21, 2010
14:30
Aichi
Aichi-ken Kinrou Kaikan
18:30
April 3, 2010
14:00
Tokyo
Shibuya C.C. Lemon Hall
18:00
External Links
Edit
Ad blocker interference detected!
Wikia is a free-to-use site that makes money from advertising. We have a modified experience for viewers using ad blockers

Wikia is not accessible if you've made further modifications. Remove the custom ad blocker rule(s) and the page will load as expected.