Ad blocker interference detected!
Wikia is a free-to-use site that makes money from advertising. We have a modified experience for viewers using ad blockers

Wikia is not accessible if you've made further modifications. Remove the custom ad blocker rule(s) and the page will load as expected.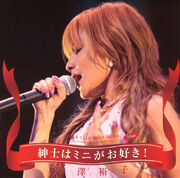 Shinshi wa Mini ga Osuki! at studio DREAM MAKER
(紳士はミニがお好き!at studio DREAM MAKER;
Gentlemen Prefer Mini
) is
Nakazawa Yuko
's first concert DVD. The DVD was released on January 22, 2003.
Tracklist
Edit
Opening
Olivia wo Kikinagara (オリビアを聴きながら)
Tokyo Bijin (東京美人)
MC l
Good Morning
Usotsuki Anta (ウソつきあんた)
Momen no Handkerchief (木綿のハンカチーフ)
MC 2
Outfit Change - MC 3
Karasu no Nyoubou (カラスの女房)
Shanghai no Kaze (上海の風)
Talk Corner
La.La.La
MC 4
Outfit Change
HOLDING OUT FOR A HERO
ALMOST PARADISE
MC 5
Akai Nikkichou (赤い日記帳)
Kuyashi Namida Porori (悔し涙 ぽろり)
MC 6
Futarigurashi (二人暮し)
ENCORE
Klaxon (クラクション)
Tokyo Bijin (Live Version) (東京美人(Live Version))
Ending
Interview