Missing Info
This article is missing important information or sections. You can help Hello! Project Wiki by expanding it.

This article still needs the following: Plot summary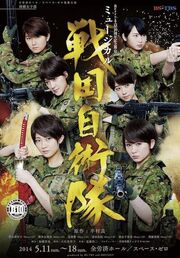 Sengoku Jieitai (戦国自衛隊) is an Engeki Joshibu musical adaptation of the 2011 stageplay, starring the members of Berryz Koubou to commemorate the group's 10th anniversary. It ran from May 12 to May 16, 2014 at Shinjuku Zenrosai Hall/Space Zero.
The DVD of the musical was released on September 3, 2014 through e-LineUP!.
From Berryz Koubou
Others
Murakami Haruna
Gojo Mai
Murofushi Maya
Hanzawa Tomomi
Sumida Sachiko
Matsubayashi Atsumi
Hidano Yoshimi
DVD Tracklist
Edit
Opening (オープニング)
Sengoku Jidai (戦国時代)
Nagao Kage Tora no Toujou (長尾景虎の登場)
Kasugasan Rinsenji (春日山林泉寺)
Kurotaki Jou (黒滝城)
Waboku (和睦)
Shimada Sansou no Shi (島田三曹の死)
Tatakai no Yoru (戦いの夜)
Kessen (決戦)
Arata na Hajimari (新たな始まり)
Ending (エンディング)
External Links
Edit
Ad blocker interference detected!
Wikia is a free-to-use site that makes money from advertising. We have a modified experience for viewers using ad blockers

Wikia is not accessible if you've made further modifications. Remove the custom ad blocker rule(s) and the page will load as expected.