This Page Needs Citation
This article has a lack of citations. Please help this wiki community keep honest material by adding reference.

Any out of the ordinary information without references will be removed.
Sato Ayano (佐藤綾乃) is a former member of Hello Pro Egg and a member of the UP-FRONT CREATE group Up Up Girls. She is also a part of the Up Up Girls unit UFZS.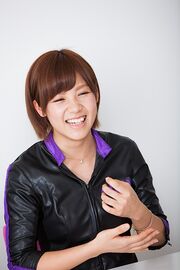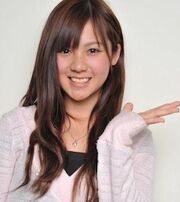 In the April issue of De☆View (released in March 2009), Sato Ayano appeared alongside Noto Arisa and Kaneko Rie as a Hello Pro Egg member. On April 4th, she was officially introduced at the Hello! Project 2009 Shinjin Kouen 4gatsu ~Yokohama Hop!~ concert alongside Sezaki Azusa.
In the same year, she was added to Tomoiki Ki wo Uetai as a part of Team Midories alongside Saho Akari, Kikkawa Yuu, and Arai Manami.
In Mano Erina's 7th and 8th singles, she was a backup dancer along with three other Eggs.
In October, Sato participated in the stage play Akuma no Tsubuyaki, as the character Ami. It ran from October 13th through the 22nd.
She had a small role in the movie Honto ni Atta Kowai Hanashi 3D. It was released on October 16.
On March 3, a new unit was announced for Sato, Furukawa Konatsu, Mori Saki, Sekine Azusa, and Arai Manami. Later in March, a new television show titled Up Front Girls featuring the members of the unit as well as Sengoku Minami was announced. Soon afterwards, it was also announced that Sato, Sekine, and Arai had finished their training.
On August 27, she and Saho Akari appeared in a TV drama called Yuusha Yoshihiko to Maou no Shiro.
On July 14, Sato became the campaign girl for Keio Amusement Passport (京王アミューズメントパスポート).
On April 30, Sato starred in the TV drama Real Onigokko THE ORIGIN (リアル鬼ごっこ THE ORIGIN) as herself.
A 2 part horror movie titled Ada ~ADA~ which featured all the members from Up Up Girls in it, had Sato and Sengoku Minami taking on the lead roles. The movie was directed by Koji Shiraishi and was released on July 13.
On November 14, a Taiwan based fashion and cosmetic blog opened an official facebook page for Sato. [1] An official Sato Ayano fashion and cosmetic blog was opened on December 6, 2013 in Japanese.[2]
On April 28, it was announced that Sato would be graduating from Up Up Girls (Kari) alongside Sengoku Minami on a yet to be determined date.[3]
Name: Sato Ayano (佐藤綾乃)
Nickname: Ayanon (あやのん)
Birthdate: January 7, 1995
Birthplace: Kanagawa, Japan
Astrological Sign: Capricorn
Bloodtype: A
Height: 152cm
Shoe Size: 23cm
Official Kaomoji: ノィ。6_6リ
Up Up Girls (Kari) Color: Purple
Groups:
Discography Featured In
Edit
Up Up Girls (Kari)
Ganbarou Nippon Ai wa Katsu Singers
T-Palette mini All Stars
Team Makenki
[2010] Honto ni Atta Kowai Hanashi 3D (ほんとうにあった怖い話3D)
[2013] Ada ~ADA~ (讐 ~ADA~)
TV Programs
Edit
[2010–] PINK!SS
[2011.04.02-] Up-Front Girls
TV Dramas
Edit
[2011] Yuusha Yoshihiko to Maou no Shiro (勇者ヨシヒコと魔王の城)
[2013] Real Onigokko THE ORIGIN (リアル鬼ごっこ THE ORIGIN)
Music Videos
Edit
Advertising
Edit
[2012-] Keio Amusement Passport (京王アミューズメントパスポート) (Campaign girl)

References
Edit
External Links
Edit
Ad blocker interference detected!
Wikia is a free-to-use site that makes money from advertising. We have a modified experience for viewers using ad blockers

Wikia is not accessible if you've made further modifications. Remove the custom ad blocker rule(s) and the page will load as expected.