For the song and digital single, see Sadistic Dance (Single).
Sadistic Dance

Regular Edition
Album by

Hangry & Angry

Released
November 18, 2009
Genre
J-pop, rock
Format
CD Album, CD+DVD, digital download
Recorded
2009
Length
40:30
Label
Gothuall

Hangry & Angry

Albums Chronology
Previous
Kill Me Kiss Me (2008)
Singles from Sadistic Dance
1.
Sadistic Dance
Other Covers

Limited Edition
Sadistic Dance is the major debut album by Hangry & Angry. It was released one year after their debut indies mini-album Kill Me Kiss Me. This was released in two different versions: a limited CD+DVD edition and a regular CD only edition. The limited edition comes with a DVD of two PVs, and comes in a Gashicon illustrated special CD carrying case. Includes crash berlin versions of previously released songs and a cover of Morning Musume's song "The☆Peace!", which both members were a part of the group at that time.
Tracklist
Edit
Mr.Monkey
Top Secret
Lady Madonna
Doubt
Angelia (crash berlin version)
Shake me
Kill Me Kiss Me (crash berlin version)
GIZA GIZA (crash berlin version)
The☆Peace! (h&A Death Tracks)
Kill Me Kiss Me (PV)
Top Secret (PV)
Featured Members
Edit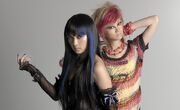 Album Information
Edit
External Links
Edit