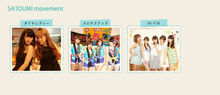 SATOYAMA & SATOUMI movement is a movement that was originally started by UP-FRONT AGENCY in the beginning of 2012 as the SATOYAMA movement.
The original purpose was to help and preserve satoyama areas, as well as make one think about the life and culture of those areas. The movement sprung the creation of Hello! SATOYAMA Life, multiple units and the SATOUMI movement on March 2, 2013. The SATOUMI movement was created with the aim to remind Japan of their beautiful oceans and beaches, and the need to keep them clean and healthy.
Some of the SATOYAMA & SATOUMI movement unit members were members of Hello! Project, while others were special winners from the Forest Award NEW FACE Audition.
Participants
Edit
The following members have participated in the SATOYAMA & SATOUMI movement up to date. Italics represents former members or groups.
UP-FRONT PROMOTION

Just Pro Production

UP-FRONT AGENCY

J.P ROOM

UP-FRONT CREATE

Sugita Jiro
Shinoda Junko
Watase Maki
SATOYAMA movement
SATOUMI movement
SATOYAMA & SATOUMI movement
Satoyama-kun
Edit
The official character of the SATOYAMA & SATOUMI movement is Satoyama-kun (さとやまくん).
In order to protect the woodlands and coastal areas, he gathers young people to help the effort. His body features snow, leaves, and cherry blossoms to express the four seasons. He loves the mountains and the ocean, and his slogan is "Satoyama & satoumi e ikou!" (里山&里海へ行こう!; Let's go to the woodlands & coastal areas!).[1]
Related Discography
Edit
Related Publications
Edit

TV Programs
Edit
[2012.10.03-2014.03.26] SATOYAMA in Kanagawa
[2014.04.05-] Hello! SATOYAMA&SATOUMI Club
Major Events
Edit
Special Lives
Edit
Music Festivals
Edit
Bus Tours
Edit
Auditions
Edit
References
Edit
External Links
Edit
Ad blocker interference detected!
Wikia is a free-to-use site that makes money from advertising. We have a modified experience for viewers using ad blockers

Wikia is not accessible if you've made further modifications. Remove the custom ad blocker rule(s) and the page will load as expected.