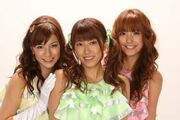 Pabo (パボ or 바보) was a Japanese pop trio under Hexagon Family, the group formed in 2007 and remained active until late 2010.
Pabo formed in 2007 through the show Quiz Hexagon II. The group name was chosen by viewers who sent submissions in to the show.
Pabo released their first and only single, Koi no Hexagon, on September 26, 2007 and it managed to reach #12 on the Oricon charts.
After the release of their single, the group made appearances on variety shows and also joined up with their brother unit Shuchishin to form the unit Aladdin. As Aladdin, Pabo was able to appear on Kouhaku Uta Gassen as Shuchishin.
Discography
Edit
Ad blocker interference detected!
Wikia is a free-to-use site that makes money from advertising. We have a modified experience for viewers using ad blockers

Wikia is not accessible if you've made further modifications. Remove the custom ad blocker rule(s) and the page will load as expected.