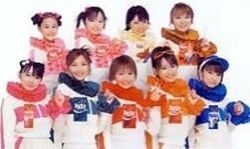 POCKY GIRLS was one of two temporary spinoff groups of Morning Musume featured on the album No.5, the other being Venus Mousse. This group featured Abe Natsumi, Yasuda Kei, Ishikawa Rika, Tsuji Nozomi, Kago Ai and all fifth generation Morning Musume members. Their song, "YES! POCKY GIRLS" was used to promote the popular biscuit-based snacks known as Pocky, and was also featured on the Petit Best 3.
Commercial
Edit
Ad blocker interference detected!
Wikia is a free-to-use site that makes money from advertising. We have a modified experience for viewers using ad blockers

Wikia is not accessible if you've made further modifications. Remove the custom ad blocker rule(s) and the page will load as expected.