This page contains links that redirect you to another Wikia community. For more information, see this page.

PINK CRES. promoting "Etcetera"
General Information

Origin

Tokyo, Japan

Years active

2016-present

Choreographer

SHE

Sound Producer

YUCCO

Labels

UP-FRONT WORKS (2016-present)

Website

Members
PINK CRES. (ピンククレス) is a three-member Japanese pop group under UP-FRONT CREATE, led by former Berryz Koubou member Natsuyaki Miyabi.
With lessons daily, their goal is to become a fashionable group that will grab the attention of not only men but also women.[1]
Supporting Members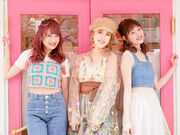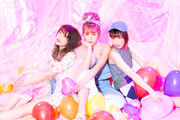 On April 30, Natsuyaki Miyabi stated her intentions to start a new idol group during the web show GREEN ROOM.[2]
On July 1, the 2015 Natsuyaki Miyabi Shin Group Member Audition began in search of members for Natsuyaki's new group. On September 24, the audition staff announced there were no winners, but began a re-recruitment for the audition on the same day.
On April 1, it was announced that Nihei Yuuka and Kobayashi Hikaru, the only two finalists from the second recruitment, both won the 2015 Natsuyaki Miyabi Shin Group Member Audition and had become members of Natsuyaki's new group.[3]
On May 20, it was announced the group had joined M-line club[4] and would hold their debut fanclub event on August 6.[5] At the event, the group performed their first two original songs: "Last Love" and "Summer wonderland".[6][7]
On August 25, the group performed as guests at Buono! Festa 2016 with ℃-ute and Country Girls[8] and were supported by DJ JURI.[9] There they finally announced the group's name to be PINK CRES., and performed two more original songs titled "Warning ~Mirai Keihou~" and "Uwa no Sora".[10][11]
On December 8, PINK CRES. performed at GIRLS ROCK alongside ANGERME.[12]
On January 13, the group appeared as PINK CRES. feat. DJ JURI at Ima Mekashinai to vol.2 -Enbu no Utage- Show Case Edition.[13] They performed a new song together titled "Tell me why".[14]
On June 28, PINK CRES. released their first indies album titled crescendo.[15] It was pre-released on May 22 at the Buono! Live 2017 ~Pienezza!~, where the group appeared as guests.
On July 18, a collaboration between PINK CRES. and the fashion brand gonoturn was announced.[16] Together they designed a cute rabbit bottle holder that would begin being sold on the day of their first live.
On July 23, they held their first live, PINK CRES. 1st LIVE ~crescendo~, at Shinjuku ReNY.[17] They were supported by DJ JURI and four back-up dancers. YUCCO, the leader of the vocal group PLΛTINUM and also PINK CRES.'s sound producer (writing songs under the name MEROA), made a guest appearance during the show.[18] PINK CRES. also debuted a new song titled "Sing to The SKY".[19]
On October 28, they held the PINK CRES. LIVE ~Halloween Special!~ as part of the Hello! Project 20 Shuunen Kinen Zen'yasai ~One by One~. They performed a new song titled "Sweet Girl's Night" and announced they would hold a live on February 7, 2018.[20][21]
On December 1, PINK CRES. released "Sweet Girl's Night" as a digital single.[22]
On February 7, it was announced at the PINK CRES. LIVE 2018 ~P・I・N・K~ that they would release their second album before the summer.[23] The title was later announced as Etcetera, and it was released on June 27.[24]
Activities Outside Japan
Edit
On February 11 and 12, 2017, PINK CRES. appeared as special guests at Japan Festa in Bangkok 2017,[25][26] for which they had a live performance on February 11.[27] They held a photo exhibition of their trip from March 20 to March 24 in Tokyo[28] and released a photobook of it on May 28, including more photos.[29]
On July 30, 2017, PINK CRES. performed at Japan Expo Malaysia 2017.[30]
On September 9, 2017, they appeared at The 2nd ASEAN-Japan TV Festival Public Event in Quezon City, Philippines.[31]
A photobook of their trip to Malaysia and the Philippines was released on October 28, 2017 as merchandise for the PINK CRES. LIVE ~Halloween Special!~.[32]
Group Name Origins
Edit
"PINK" is often associated as cute color for girls and is the group's official color. "CRES." is an abbreviation for the musical term "crescendo", which means music gradually increasing in loudness and represents the group's goal to "gradually grow louder and louder" around the world.[33][10][11]
Discography
Edit
Publications
Edit
Photobooks
Edit
[2017.05.28] PINK CRES. PhotoBook Vol.1 (Bangkok)
[2017.10.28] PINK CRES. PhotoBook Vol.2 (Malaysia/Philippines)
As PINK CRES. did not have a group name for four months after it was formed, it was jokingly called Miyabi Factory (ミヤビファクトリー) by Natsuyaki Miyabi and fans during that time.[34]
References
Edit
External Links
Edit