"
I think I'm the cutest amongst the members, but Momochi-senpai says the same thing, so it collided with Tsugunaga-san's cute character. But it's sad that a huge rival will no longer be around. I'll do my best to inherit that cuteness.
"

–Ozeki Mai, November 2016
Ozeki Mai (小関舞) is a Japanese pop singer signed under Hello! Project. She is a member of Country Girls.[2][3]
Biography
Edit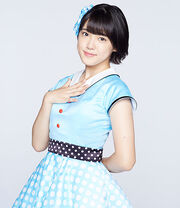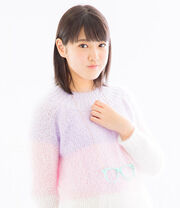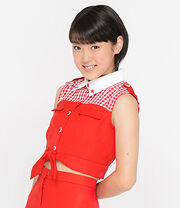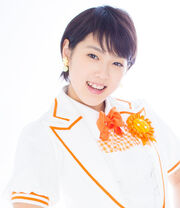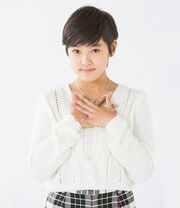 Early Life
Edit
Ozeki Mai was born on February 10, 2002 in Tokyo, Japan.
In 2002, Ozeki appeared in the film Jitsuroku Hitman ~Tsuma Sono Ai~.
In April, Ozeki left Tamborine Artist agency.
In mid-2014, she participated in the Morning Musume '14 (Golden) Audition! in hopes of becoming a 12th generation member, but failed to pass.[3]
On November 5, it was announced that Ozeki was added to Country Musume, now called Country Girls, alongside Yamaki Risa, Inaba Manaka, Morito Chisaki and Shimamura Uta.[2][3]
On February 10, Ozeki celebrated her 14th birthday at an event titled Country Girls Ozeki Mai Birthday Event 2016, featuring two performances in Tokyo.
On February 13, Ozeki celebrated her 15th birthday at an event titled Country Girls Ozeki Mai Birthday Event 2017, featuring two performances at TOKYO FM HALL.
Personal Life
Edit
Ozeki is the eldest daughter of former baseball player and current coach of the Yomiuri Giants, Ozeki Tatsuya.[4][5] Her grandparents have a ramen shop in Sano, Tochigi Prefecture. She has a younger sister and owns four pet cats: Gaayan, Satsuki, Mei, and Ryuu.
When Ozeki joined Country Girls in November 2014, she was a first year middle school student. As graduated to Middle School on April 2017. She is current in April 2017 is First Year High School.
Ozeki's was given the name Mai (舞) so she could soar high (舞い上がる; maiagaru) in the future, and on the day she was born snow was whirling (舞う; mau) about.[6]
The following list are notable friendships Ozeki Mai has acquired:
Here is a list of nicknames that was used to refer to Ozeki Mai:
Ozeki-chan (おぜきちゃん): Official nickname, given her since Country Girls.
Ozeko (おぜこ): Second nickname, given by Shimamura Uta.[7]
Name: Ozeki Mai (小関舞)
Nickname: Ozeki-chan (おぜきちゃん)
Birth date: February 10, 2002[8]
Birth Place: Tokyo, Japan[8]
Blood type: O[8]
Hello! Project Status:

2014-11-05: Country Girls Member

Country Girls Color: Medium Blue (2014-)
Hello! Project groups:
Discography
Edit
Solo Blu-rays
Edit

Publications
Edit
Solo Photobooks
Edit

Magazines Featured In
Edit

[2002] Jitsuroku Hitman ~Tsuma Sono Ai~ (実録ヒットマン~妻その愛~)
TV Programs
Edit
[2015] Country Girls no Tadaima Radio Kenshuuchuu!! (カントリー・ガールズの只今ラジオ研修中‼)
[2015–] Country Girls no Tadaima Radio Housouchuu!! (カントリー・ガールズの只今ラジオ放送中!!)
[2016–] HELLO! DRIVE! (HELLO! DRIVE! -ハロドラ-) (Mondays, 2016.09–2017.09; Thursdays, 2017.10–)
Honorary Titles
Edit
References
Edit
External Links
Edit
Ad blocker interference detected!
Wikia is a free-to-use site that makes money from advertising. We have a modified experience for viewers using ad blockers

Wikia is not accessible if you've made further modifications. Remove the custom ad blocker rule(s) and the page will load as expected.