Ad blocker interference detected!
Wikia is a free-to-use site that makes money from advertising. We have a modified experience for viewers using ad blockers

Wikia is not accessible if you've made further modifications. Remove the custom ad blocker rule(s) and the page will load as expected.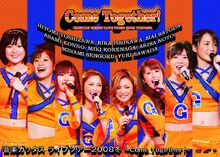 Ongaku Gatas Live Tour 2008 Fuyu ~Come Together!~ (音楽ガッタス ライブツアー2008冬 ~Come Together!~) is Ongaku Gatas' 2008 Winter concert tour. The concert DVD was filmed on December 14, 2008 at Yokohama BLITZ. The DVD was released in March 11, 2009.
The DVD ranked at #13 on the Oricon weekly charts and sold 3,261 copies.
Tracklist
Edit
OPENING
MC
Chikyuu to Tsuki Kare to Watashi - Ishikawa Rika, Konno Asami, Sengoku Minami, Sawada Yuri
MC
Amai Yuuwaku - Satoda Mai, Korenaga Miki, Noto Arisa
Kanashimi Twilight - Yoshizawa Hitomi, Sengoku Minami, Sawada Yuri
Iroppoi Onna ~SEXY BABY~ - Ishikawa Rika, Konno Asami
Ooki ni. Machibata Kara... (おおきに。道端から...)
MC
Kiss Shiyou - Ishikawa Rika, Konno Asami
Koi Uranai Doori ni wa Naranai wa - Korenaga Miki, Noto Arisa, Sengoku Minami, Sawada Yuri
Kara Genki - Yoshizawa Hitomi, Ishikawa Rika, Satoda Mai, Konno Asami
MC
MC
Yattarouze!
<ENCORE>
MC/ HAPPY BIRTHDAY TO YOU
Featured Members
Edit
External Links
Edit