Ongaku Gatas First Concert Tour 2008 Haru ~Mi Zaru Shuku Zaru GOODSAL!~
Comment

1
Share
Ad blocker interference detected!
Wikia is a free-to-use site that makes money from advertising. We have a modified experience for viewers using ad blockers

Wikia is not accessible if you've made further modifications. Remove the custom ad blocker rule(s) and the page will load as expected.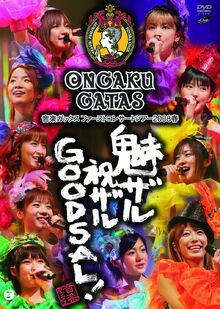 Ongaku Gatas First Concert Tour 2008 Haru ~Mi Zaru Shuku Zaru GOODSAL!~ (音楽ガッタス ファーストコンサートツアー2008春 ~魅ザル 祝ザル GOODSAL!~) Is Ongaku Gatas's first concert tour. The concert DVD was filmed on March 2, 2008 at Osaka Kousei Nenkin Kaikan. The DVD was released on May 28, 2008.
The DVD ranked at #5 on the Oricon weekly charts and sold 5,947 copies.
Tracklist
Edit
OPENING
MC
Chikyuu to Tsuki Kare to Watashi - Ishikawa Rika, Konno Asami, Sengoku Minami, Sawada Yuri
Seishun no Custard - Yoshizawa Hitomi, Satoda Mai
MC
Kokoro no Tanima - Noto Arisa, Mano Erina
Kiss Shiyou - Ishikawa Rika, Konno Asami
MC
MC
Koi Uranai Doori ni wa Naranai wa - Korenaga Miki, Noto Arisa, Mano Erina, Sengoku Minami, Sawada Yuri, Muto Mika
MC
Kara Genki - Yoshizawa Hitomi, Ishikawa Rika, Satoda Mai, Konno Asami
MC
Osaki ni Sunzurei
ENCORE
MC
Featured Members
Edit
External Links
Edit