Ad blocker interference detected!
Wikia is a free-to-use site that makes money from advertising. We have a modified experience for viewers using ad blockers

Wikia is not accessible if you've made further modifications. Remove the custom ad blocker rule(s) and the page will load as expected.
Onaji Jikyuu de Hataraku Tomodachi no Bijin Mama (同じ時給で働く友達の美人ママ; My Friend's Beautiful Mom That Works at the Same Hourly Pay) is the third major label single released by S/mileage. The single was released in 3 limited Edition and regular editions; all limited editions coming with bonus DVDs. The limited editions and the first press of the regular edition come with a serial number card which, when entered in a lottery, could win a ticket to one of the single's release events. Remix Type1 was released digitally November 3, 2010.
Tracklist
Edit
Onaji Jikyuu de Hataraku Tomodachi no Bijin Mama
Chokotto LOVE (ちょこっとLOVE; A Little Bit of Love) (Petitmoni cover)
Onaji Jikyuu de Hataraku Tomodachi no Bijin Mama (Instrumental)
Limited Edition A DVD
Edit
Onaji Jikyuu de Hataraku Tomodachi no Bijin Mama (Dance Shot Ver.Pink)
Limited Edition B DVD
Edit
Onaji Jikyuu de Hataraku Tomodachi no Bijin Mama (Close Up Ver.)
Limited Edition C DVD
Edit
Onaji Jikyuu de Hataraku Tomodachi no Bijin Mama (4shot Lip Ver)
Onaji Jikyuu de Hataraku Tomodachi no Bijin Mama (MV)
Onaji Jikyuu de Hataraku Tomodachi no Bijin Mama (Arubaito Ver.)
Making of
Onaji Jikyuu de Hataraku Tomodachi no Bijin Mama (Dance Shot Ver. Light Blue)
Onaji Jikyuu de Hataraku Tomodachi no Bijin Mama (Wada Ayaka Close-up Ver.)
Onaji Jikyuu de Hataraku Tomodachi no Bijin Mama (Maeda Yuuka Close-up Ver.)
Onaji Jikyuu de Hataraku Tomodachi no Bijin Mama (Fukuda Kanon Close-up Ver.)
Onaji Jikyuu de Hataraku Tomodachi no Bijin Mama (Ogawa Saki Close-up Ver.)
Remix Edition
Edit
Onaji Jikyuu de Hataraku Tomodachi no Bijin Mama (Remix Type1) (同じ時給で働く友達の美人ママ (Remix Type1))
Featured Members
Edit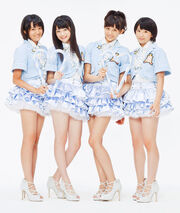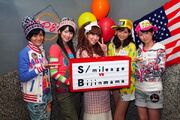 Single Information
Edit
Onaji Jikyuu de Hataraku Tomodachi no Bijin Mama
Chokotto LOVE
TV Performances
Edit
[2012.12.24] M-on! Special Live Girlpop
Concert Performances
Edit
Onaji Jikyuu de Hataraku Tomodachi no Bijin Mama
Chokotto Love
| Mon | Tue | Wed | Thu | Fri | Sat | Sun | Week Rank | Sales |
| --- | --- | --- | --- | --- | --- | --- | --- | --- |
| - | 4 | 6 | 12 | 16 | 13 | 3 | 5 | 17,998 |
| 12 | 25 | 6 | 7 | - | 47 | 10 | 11 | 5,960 |
| 11 | 32 | 39 | 45 | - | - | 17 | 34 | 2,088 |
| 35 | - | - | - | - | 24 | 10 | 39 | 1,926 |
| - | - | - | - | - | - | - | - | 466 |
| 13 | - | - | - | - | - | - | 105 | 678 |
| 41 | - | - | - | - | - | - | - | 417 |
Total Reported Sales: 29,533
Single V
| Mon | Tue | Wed | Thu | Fri | Sat | Sun | Week Rank | Sales |
| --- | --- | --- | --- | --- | --- | --- | --- | --- |
| - | 5 | 13 | 17 | 19 | 20 | - | 13 | 1,560 |
| - | - | - | - | - | - | - | 39 | 358 |
Total Reported Sales: 1,918
External Links
Edit