This Page Needs Citation
This article has lack of citations. Please help this wiki community keep honest material by adding reference.

Any out of the ordinary information without references will be removed within 6 months.
Oda Sakura
小田さくら



Nickname

Sakura, Dacchi, Odachii, Odan, Odacho, Sacchan

Born

March 12, 1999 (1999-03-12) (age 15)

Origin

Zama, Kanagawa, Japan

Genre

Japanese Pop

Occupation

Singer

Years Active

2011 - Present

Label

Zetima

Associated Acts
Oda Sakura (小田さくら, born on March 12, 1999) is a Japanese pop singer under Hello! Project. She is an 11th generation member of Morning Musume and a former member of Hello! Pro Kenshuusei. She was first introduced at a fanclub event in November 2011 alongside Yamaga Kanae.
Biography
Edit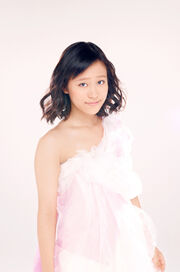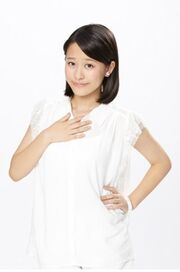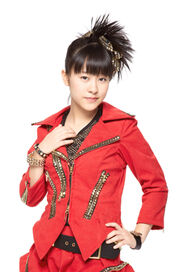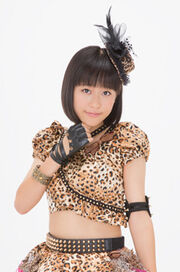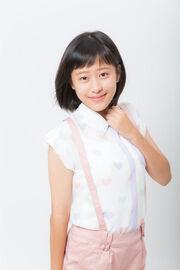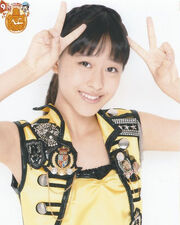 Early Life
Edit
Oda Sakura was born on March 12, 1999 in Kanagawa, Japan to a couple whose names are undisclosed. She has an older brother and a younger sister.
On November 12, at a Fan Club event, Oda Sakura was introduced as a new member of Hello! Pro Egg, alongside Yamaga Kanae, after failing the S/mileage second generation auditions.
On September 14, Oda was announced as the winner of Morning Musume 11th Generation ~Suppin Utahime~ Audition.[1] Oda starts her official Morning Musume duties in January 2013 at the Hello! Project 2013 Winter Concert, after Morning Musume's 15th Anniversary Concert Tour.
On December 14, Oda's Morning Musume member color was revealed to be Lavender.
On April 11, Oda officially started blogging in the 10th Generation Members' blog.
On March 13, she will have a birthday event to celebrate her 15 years called "Oda Sakura Birthday Event 2014~ Sakura no Shirabe." It is going to have two performances at the Tokyo FM Hall.
Name: Oda Sakura (小田さくら)
Nicknames: Sakura (さくら), Dacchi, Odachii, Odan, Odacho, OdaSaku, Sakurakkyo, Sacchan, SakuSaku
Birthplace: Zama, Kanagawa, Japan
Birthday: March 12, 1999
Blood type: A
Height: 152 cm [1]
Hello! Project Status:

2011-11-12: Hello! Pro Kenshuusei Member
2012-09-14: Full Member
2012-09-14: Morning Musume Member[1]

UP-FRONT AGENCY Status:

2012-09-14: Full Member
2012-10-01: Transferred to UP-FRONT PROMOTION (as part of Morning Musume)

UP-FRONT PROMOTION Status:
Years in Morning Musume: 1 Year
Morning Musume Color: Lavender
Hello! Project groups:
Hobbies: Sewing, cooking, humming on songs
Special Skills: Hula dance
Strong Point: Being able to talk to people without creating a wall between them.
Weak Point: Being too positive sometimes
Looks Up To: Takahashi Ai, Niigaki Risa, Michishige Sayumi, Nakajima Saki, Sugaya Risako
Rival No. 1: Sato Masaki
Favorite Morning Musume Songs: "Namidacchi", "Mikan", "HOW DO YOU LIKE JAPAN? ~Nihon wa Donna Kanji Dekka?~"
Favorite Songs in the Past: "Twinkle Snow Powdery Snow" by Perfume, "Smile ~Kimi wa Hitori ja nai~" by Shiori, "Sakuranbo" by Otsuka Ai
Current Favorite Songs: "GLITTER" by Perfume, "All I Want for Christmas is You" by Mariah Carey, "Kaze to Mirai" by Ikimonogakari, "Midnight Temptation" by ℃-ute
Favorite Color: White
Favorite Food: Matsumaezuke, jellyfish, and eggplant
Favorite Manga: Shugo Chara!, Suki-tte Ii na yo.
Favorite Word: "Ichigoichie" (一期一会; Once in a lifetime)
Favorite Phrase: "~or so I think"
Favorite Movie: Charlie and the Chocolate Factory
Favorite Subject: Home economics, music
Disliked Subject: Language
Charm point: Facial features
Treasured Item: A stuff bear she had since birth
Discography
Edit
See Also: Oda Sakura Discography Featured in

Photobooks
Edit
Group Photobooks
Edit
Magazines
Edit
Cover girl
Edit
[2012.10.06] Top Yell (Back cover)
[2013.10.17] Weekly Famitsu Taiwan Vol.456
Featured on the cover
Edit
TV Programs
Edit
[2013-] Morning Musume no Morning Jogakuin ~Houkago Meeting~ (モーニング娘。のモーニング女学院~放課後ミーティング~)
[2013-] Sakura Sakuradio (FC Radio Show)
When she was a Kenshuusei, she said that she would like to debut into Berryz Koubou.
She has five cats.
She has an older brother and a younger sister.
She appeared as a background dancer during the H!P 2012 Winter Concert Tour.
When asked what she would do on a rainy day, she said she would sing the song "Tsuugaku Vector☂" by ℃-ute and sleep.
Shares the same birthday as S/mileage member Fukuda Kanon.
She is known for being very confident.
She is currently one of the shortest members in Morning Musume.
She said that if she could be an animal, she would be a rabbit or a dog.
She said her dream as an idol is to become unique within Hello! Project.
She can imitate certain girls' voices very well.
She is the third member to be the only one of her generation, other being Goto Maki and Kusumi Koharu.
She said her goal within Morning Musume is to sing like Takahashi Ai and Niigaki Risa, and to dance like Nakajima Saki.
She is the fourth member of Morning Musume to be from Hello! Pro Kenshuusei; other being Linlin, Fukumura Mizuki and Kudo Haruka.
When she first joined Morning Musume, Tsunku said she was one of the top three vocalists ever in Hello! Project, along with Takahashi Ai and Matsuura Aya (he later named Tanaka Reina a best vocalist).
Her classmates used to call her "Medusa".
Her best sport is swimming.
She does not have a mentor figure.
She has been a fan of Morning Musume and Minimoni since kindergarten.
Her S/mileage audition number was 33.
Her Morning Musume audition number was 178.
All singles she has participated in ranked #1 in the Weekly Oricon rankings.
There is a possibility that Tsunku planned on adding Oda to Morning Musume since she auditioned for S/mileage back in 2011.
When she joined Morning Musume, she immediately became good friends with Sayashi Riho.
She gets along best with Suzuki Kanon.
When asked who was the nicest senpai in Morning Musume during the Morning Musume 2013 Fall tour, she said Tanaka Reina.
A hairstyle she would like to try next is a short cut like Kudo Haruka's.
She is not good at memorizing her positions on stage during performances, like Kusumi Koharu.
She said her favorite member is Kudo Haruka.
She considers Sato Masaki as a genius and her greatest rival.
Fukumura Mizuki combined her and Oda's name to make "Odamura Mizura."
References
Edit
External Links
Edit
Morning Musume
History | Timeline | Auditions | DVDs | Photobooks
Concerts

Concerts

Spring Tours: 2001 | 2002 | 2003 | 2004, 2005 | 2006 | 2007, 2008 | 2009 | 2010 | 2011 | 2012 | 2013 | 2014


Fall Tours: 2004 | 2005 | 2006 | 2007 | 2008 | 2009 | 2010 | 2011 | 2012 | 2013
Other: 1999 | 2000 | 2001 | 2002 | 2003 2009 | 2013

Other Concerts & Events
Hello! Project Concerts
Summer Tours: 2009 | 2010 | 2011 (WOW WOW, YEAH YEAH) | 2012 (Ktkr, Wkwk) | 2013 (Sorezore!, Mazekoze!)


Winter Tours: 2010 (Mobekimasu!) | 2011 (A-gana, B-kkuri) | 2012 (Funky-chan, Rock-chan) | 2013 (Viva!, Bravo!) | 2014 (GOiSU MODE, DE-HA MiX)
Hina Fest: 2013 (Zen'yasai, Berryz Koubou 10 Nenme Totsunyuu Special, Thank You For Your Love!) | 2014
Other Concerts: Hello! Project ☆ Festival 2011 | Hello! Project Yaon Premium Live ~Soto Fest~ | Hello! Project COUNTDOWN PARTY 2013 ~GOOD BYE & HELLO!~
Hello Pro Kenshuusei
Members

9th Gen: Tanabe Nanami


11th Gen: Yoshihashi Kurumi, Hamaura Ayano, Taguchi Natsumi
12th Gen: Ogawa Rena
14th Gen: Kosuga Fuyuka
15th Gen: Murota Mizuki
16th Gen: Yamagishi Riko, Nomura Minami
17th Gen: Ichioka Reina, Kaga Kaede, Kishimoto Yumeno, Makino Maria, Wada Sakurako
18th Gen: Sasaki Rikako
19th Gen: Tanaka Karen, Inaba Manaka, Mikame Kana, Fujii Rio, Inoue Hikaru
20th Gen: Yamaki Risa, Yokogawa Yumei, Niinuma Kisora, Oura Hirona, Danbara Ruru, Haga Akane, Funaki Musubu

Former Members

1st Gen: Korenaga Miki, Kawashima Miyuki, Okada Yui, Noto Arisa, Morozuka Kanami, Aoki Erina, Tanaka Anri, Ohse Kaede, Sengoku Minami, Sawada Yuri, Muto Mika, Hashida Mirei, Furukawa Konatsu, Hashimoto Aina, Ooyanagi Maho, Akiyama Yurika, Okada Robin Shouko, Arihara Kanna, Goto Yuki, Sainen Mia, Mori Saki, Yutoku Ayumi, Kitahara Sayaka, Wada Ayaka, Maeda Yuuka, Fukuda Kanon, Saho Akari, Okai Asuna, Sekine Azusa, Ogawa Saki, Maeda Irori, Arai Manami


2nd Gen: Mano Erina, Ogura Manami, Komine Momoka
3rd Gen: Linlin, Kikkawa Yuu
4th Gen: Fukumura Mizuki, Takeuchi Akari, Kaneko Rie
5th Gen: Miyamoto Karin
6th Gen: Sezaki Azusa, Sato Ayano
7th Gen: Hirano Tomomi, Katsuta Rina
8th Gen: Takagi Sayuki
10th Gen:Kizawa Runa, Nagasawa Wakana, Kudo Haruka
12th Gen: Otsuka Aina, Mogi Minami
13th Gen: Yamaga Kanae, Oda Sakura
14th Gen: Uemura Akari
15th Gen: Okamura Rise
17th Gen:Kanazawa Tomoko
19th Gen: Mashiro Kana

Singles

Sora ga Aru (Digital single), Kanojo ni Naritai!!!, Ten Made Nobore!, Oheso no Kuni Kara Konnichiwa / Ten Made Nobore! (DVD single)
Associated Acts

THE Possible, Up Up Girls (Kari), ℃-ute, Juice=Juice, Morning Musume, S/mileage, v-u-den, Shugo Chara Egg!, Tomoiki Ki wo Uetai, Aa!, High-King, Jurin, MilkyWay, Ongaku Gatas, Reborn Eleven, Shin Minimoni, Kashou Egg