"
I want to go on a world tour. It's a big dream, and I don't know if we can even achieve it, but I'll work hard to make it happen![1]
"

–Nonaka Miki, January 2015
Nonaka Miki (野中美希) is a Japanese pop singer under Hello! Project as a twelfth generation member of Morning Musume.[2]
She is the first person to join Morning Musume that is fluent in English, and since her joining, she has been appointed the role as the group's "global representative" (グローバル担当; global tantou).[3][4][5]
Biography
Edit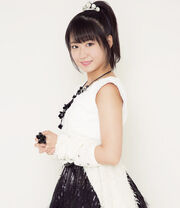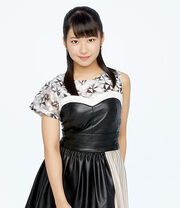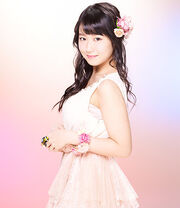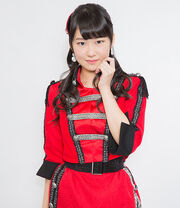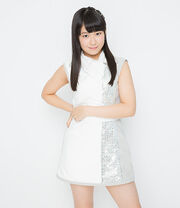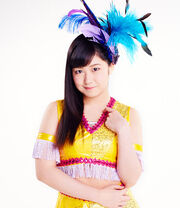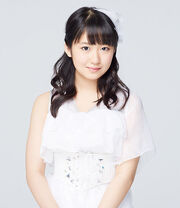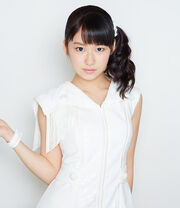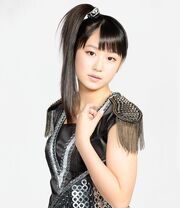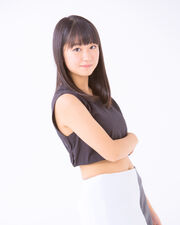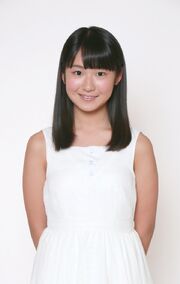 Early Life
Edit
Nonaka Miki was born on October 7, 1999, in Shizuoka, Japan. Due to her father's job, she lived in the United States for eight years. She lived in the state of Illinois from 2001 to 2004 and in the state of Alabama from 2004 to 2010.[6] During her time in Alabama, she attended Applause fine arts school.[6]
In summer 2014, Nonaka took part in the Morning Musume '14 <Golden> Audition! and successfully passed. Her audition number was #269. She was introduced as a 12th generation member during Morning Musume '14's concert at Nippon Budokan on September 30 alongside Ogata Haruna, Makino Maria and Haga Akane.[2]
On January 4, Nonaka and and her fellow 12th generation members began a radio show on FM FUJI, titled Morning Musume '15 12ki Nikki.[7] They also began a web talk show exclusive to fanclub members on March 5, titled 12ki Relay.[8]
On June 12, Nonaka released her first solo e-Hello! Blu-ray, Greeting ~Nonaka Miki~.
On October 7, Nonaka celebrated her 16th birthday at a fanclub event Morning Musume '15 Nonaka Miki Birthday Event, featuring three shows at TOKYO FM HALL.
On January 29, Nonaka held a talk event at the Hello! Project Official Shop in Akihabara.[9]
On February 10, it was announced that Nonaka injured her left foot during a dance rehearsal for the Morning Musume '16 Concert Tour Haru ~EMOTION IN MOTION~. After seeing a doctor, she was diagnosed with an avulsion fracture of the base of the fifth metatarsal (dancer's fracture) and a ligament injury in her heel. Nonaka required 4 weeks of recovery, and was not able to participate in several events during the month of February.[10] As of February 20, Nonaka was able to sing while sitting.
On February 12, it was announced that Nonaka would provide the English narration for Shizuoka Asahi TV's annual music documentary program ch223 music pinkiss ~Ponyo Trio Nihon Ichi no Sotsugyou Ryokou!?~, featuring Country Girls member Yamaki Risa and Hakoiri♡Musume member Wagatsuma Momomi.[11] The original Japanese narration was broadcast February 20, and Nonaka's English narration was broadcast on February 26.[12]
On March 19, the first day of the Hello! Project Hina Fes 2016, Nonaka had completely recovered from her injury and returned to dancing.[13]
On May 3, Nonaka began the monthly radio show Hello! Project Mobile Sendenkaigi for the Hello! Project Mobile service along with "promotion manager" Kudo Haruka and fellow "promotion staff" members Ogata Haruna and Yanagawa Nanami.[14]
On October 21, Nonaka celebrated her 17th birthday at a special event called Morning Musume '16 Nonaka Miki Birthday Event, featuring one show at Kameari Lirio Hall in Tokyo.
On January 1, Nonaka announced that as a global representative of Hello! Project and Morning Musume she would be making English videos about Hello! Project for the UP-FRONT LINK Facebook page throughout 2017.[15]
On February 14, Nonaka announced on her blog that she would star in her first drama, an episode of Otona e Novel on February 23.[16]
On February 16, the 12th generation's fanclub-exclusive web talk show 12ki Relay ended with a total of 100 episodes.[17] Their radio show Morning Musume '17 12ki Nikki also ended on March 26.[18]
On April 6, the Morning Musume '17 12th generation and 13th generation members began a radio show on FM FUJI, titled Morning Musume '17 no Morning Diary.[19]
On October 19, Nonaka celebrated her 18th birthday at a fanclub event titled Morning Musume '17 Nonaka Miki Birthday Event, featuring two shows at IMA Hall.
On February 5, it was announced that RakutenTV, who made a deal with the NBA last October for exclusive online distribution rights in Japan,[20] have appointed Nonaka as an official NBA ambassador and she has traveled to New York City for her first week of training.[21][5] She would be working alongside former Berryz Koubou member Tokunaga Chinami, who had been studying English abroad.[22] On February 19, Nonaka announced that she was the ambassador for the Los Angeles Lakers.[23]
On June 4, the 12th generation members will hold the Morning Musume '18 12ki Member Ogata Haruna・Nonaka Miki・Makino Maria・Haga Akane FC Event at Differ Ariake.
Personal Life
Edit
She is the eldest daughter in her family.[24] Miki's younger sister is named Miyu. She has a pet cat named "Rena-chan".
When Nonaka joined Morning Musume in September 2014, she was in her third year of middle school.[2] She graduated from middle school on March 20, 2015.[25] She started high school in April 2015 and graduated in March 2018.
When Nonaka entered middle school, she joined her school's English club and eventually became the club leader.[citation needed] In September 2013, she took the Test of English for International Communication (TOEIC) at her school in Shizuoka, which she scored 795 on the exam. She is also grade 2 in the EIKEN Test in Practical English Proficiency (STEP Eiken).[26]
The following list are notable friendships Nonaka Miki has acquired:
Nonaka's given name, Miki, means "beauty" (美; mi) combined with "rare" (希; ki).
Her parents chose it by number of strokes and because they had many acquaintances with the name "Miki" who were a cute or wonderful person.[30] Once they decided on the sound of Miki, they wanted kanji with stroke counts that were all had excellent luck, so they asked Nonaka's grandfather who knew a lot about it to choose.[29]
Here is a list of nicknames that have been used to refer to Nonaka Miki:
Name: Nonaka Miki (野中美希)
Nicknames: Chel (チェル), Nonaka-chan (野中ちゃん), Mikicha (みきちゃ)[1]
Birthday: October 7, 1999[2]
Birthplace: Shizuoka, Japan[2]
Blood Type: A[2]
Height: 157cm
Western Zodiac: Libra
Hello! Project Status:

2014-09-30: Morning Musume member[2]

Years in Morning Musume: 2 Years
Morning Musume Member Color:

Purple

Hello! Project Groups:
Discography
Edit
See also: List:Nonaka Miki Discography Featured In
Solo Blu-rays
Edit

Solo Fanclub DVDs
Edit
Publications
Edit
Solo Photobooks
Edit
TV Programs
Edit
[2014–] The Girls Live
[2016] ch223 music pinkiss ~Ponyo Trio Nihon Ichi no Sotsugyou Ryokou!?~ (ch223 music pinkiss 2016 ~ポニョトリオ 日本一の卒業旅行!?~) (English narration)
TV Dramas
Edit
[2017.02.23] Otona e Novel (オトナヘノベル)
[2015–2017] Morning Musume '17 12ki Nikki! (モーニング娘。'17 12期日記!)
[2015–2017] 12ki Relay (12期リレー) (fanclub exclusive)
[2016–] Hello! Project Mobile Sendenkaigi (ハロ!モバ宣伝会議) (Hello! Project Mobile exclusive)
[2016–] HELLO! DRIVE! (HELLO! DRIVE! -ハロドラ-) (Mondays, 2016.09–2017.09; Wednesdays, 2017.10–)
[2017–] Morning Musume '18 no Morning Diary (モーニング娘。'18のモーニングダイアリー)
She dislikes birds.[33]
Her favorite facial feature is her right dimple,[24] and her favorite body parts are her clavicles.[24]
A recent Morning Musume song that makes her feel "I want to dance along with them" is "Brainstorming."[34]
According to her, "Morning Musume" is something that she admires, that gives her dreams.[1]
She is the first member of Morning Musume to come from the Shizuoka Prefecture.
She auditioned for Morning Musume because she previously liked Morning Musume, and got a push from the "Egao no Kimi wa Taiyou sa" lyrics "Ima shika dekinai kimi ga shitai koto wo shinayo" (Do the things you want which you only can now).
When she joined Morning Musume, she felt like her dream of having too much fun would come true.
She's good at cooking fruiche.
She likes to say "nanka nee~" and "ano nee~".
She's proud of her English and English pronunciation.
She thinks she's both a boke and a tsukkomi, even though her friends always tell her she's an airheaded boke.
She thinks she couldn't live without music.
She has bad eyesight, so she has to wear contacts, and sometimes, glasses.
She thinks that in a previous life she was a cat.[6]
If God could grant her one thing, she would wish to be full of happiness for her entire life.[6]
She would bring Doraemon to a deserted island.[6]
She has the same given name as former Morning Musume member Fujimoto Miki, although they do not share the same character for "ki".
She introduced herself in English at the time she auditioned and when she was revealed as a Morning Musume member.
On the date of her birth, "LOVE Machine" was the current weekly number one single in Japan.
Nonaka is good with dance and artistic gymnastics.[24]
Before she goes to sleep, Nonaka listens to music or plays the piano.[24]
She is left-handed, making her the third Morning Musume member to be left-handed.
Her childhood dream was to become a back dancer for Miley Cyrus.[6]
She sometimes writes parts of her blog in English.
She has anemia.[35]
She believes in Santa Claus and was sad that she did not get a present from him in 2014.
During a gift exchange with the other members of Morning Musume, she was given a selfie stick.
She is the third member of Morning Musume, after Junjun and Linlin, to have lived in another part of the world other than Japan and speak a language other then Japanese.
She is the first member of the twelfth generation to have the role of main vocalist in "Imasugu Tobikomu Yuuki".
She wants to learn to speak Chinese because language interpreters she had met in the past could speak English, Japanese, and Chinese. She would also be able to speak with many more people.[36]
Her favorite place in Tokyo is the Pompompurin Café in Shibuya.[36]
If she could be reborn as someone else, she would be Tsuji Nozomi because she was a member of Morning Musume when "Ren'ai Revolution 21" was released and appeared a lot on TV. Nonaka wants to live in that era once (she was 1 or 2 years old at that time) and be a part of Minimoni.[29]
If she did not become an idol, she believes she would have gone back to America to study abroad.[29]
She is the only 12th generation member to not be born early in the year (Ogata Haruna and Makino Maria were both born in February, and Haga Akane was born in March).
She is the only 12th generation member to have solo lines in Tsumetai Kaze to Kataomoi, Jealousy Jealousy.
References
Edit
External Links
Edit