Murota Mizuki
室田 瑞希

Murota Mizuki promoting "Nakenai ze・・・Kyoukan Sagi"
Background Information
Also Known As
Murotan (

むろたん

?

)
Born
June 12, 1998
Origin
Chiba, Japan
Blood Type
AB
Zodiac Sign
Gemini
Height
153.8 cm
Shoe Size
23 cm
Genres
J-Pop
Occupation
Idol, Singer, Actress, Model
Years Active
2012-present
(6 years)
Agency
UP-FRONT AGENCY (2012)
UP-FRONT PROMOTION (2012-present)
Label
UP-FRONT WORKS
hachama
Associated Acts
ANGERME, Hello Pro Kenshuusei, Team Okai, Hamizu, Hello! Project Station Dance Club
Blog
ANGERME Shin Member Official Blog
ANGERME Information
Joined
October 4, 2014
Generation
3rd Generation
Member Color

     

 Light Blue
Debut Single
Taiki Bansei / Otome no Gyakushuu
Time in Group
3 Years, 6 Months, 19 Days
Hello Pro Kenshuusei Information
Joined
March 1, 2012
Generation
15th Generation
Left
October 4, 2014
Graduated
December 29, 2014

Murota's Autograph
"
I want to become a top idol. Within Hello! Project and within ANGERME, I want to be at the top.[1]
"

–Murota Mizuki, February 2015
Murota Mizuki (室田瑞希) is a Japanese idol under Hello! Project as a third generation member of ANGERME.[2][3] She first joined Hello! Project as a Hello Pro Kenshuusei on March 1, 2012.[3]
Biography
Edit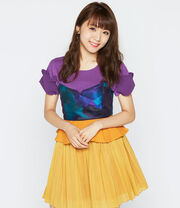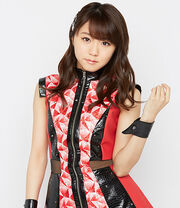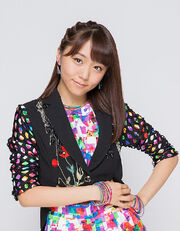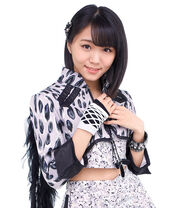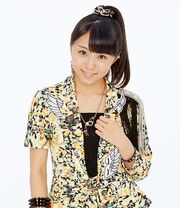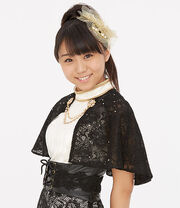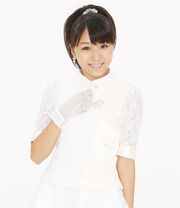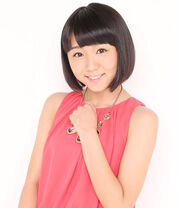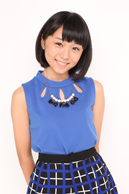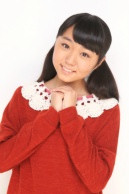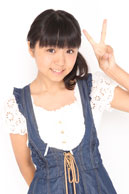 Early Life
Edit
Murota Mizuki was born on June 12, 1998 in Chiba, Japan.
In summer 2011, Murota participated in both the S/mileage Shin Member Boshuu! audition and the Morning Musume 10ki Member "Genki Jirushi" Audition, but failed.[4] In the S/mileage audition, her number was 1406 and she made it up to the third round.
On March 1, Murota joined Hello Pro Kenshuusei[3] after successfully passing an audition to join the program.[4] She was introduced as a member at the Hello Pro Kenshuusei Happyoukai 2012 ~3gatsu no Nama Tamago Show!~ concert on April 1 alongside Okamura Rise.
During the summer, Murota participated in the Morning Musume 11ki Member "Suppin Utahime" Audition, but failed to pass the 3rd round.
From September 15 to December 15, Murota participated in the Morning Musume Tanjou 15 Shuunen Kinen Concert Tour 2012 Aki ~Colorful Character~ as a back dancer, alongside Kaneko Rie, for Michishige Sayumi's solo song "Lalala no Pipipi".
On January 27, Murota, Kaneko Rie, Miyamoto Karin, Tanabe Nanami, Hamaura Ayano and Ogawa Rena appeared as an opening act for the Morning Musume's mini live event at the Osaka's Senri SELCY Square to promote "Help me!!". They sang "Kanojo ni Naritai!!!" and were back dancers for "LOVE Machine".
On February 23, Murota appeared in UTB+ magazine with Uemura Akari and Miyamoto Karin. On the same day, she was a back dancer for Mano Erina's graduation concert.
On March 7, Murota participated in an FC event held for Kaga Kaede and Wada Sakurako alongside Yoshihashi Kurumi and Nomura Minami.
On March 24, Murota participated in Fujimoto Miki's 10th anniversary celebration alongside fellow Kenshuusei members, Yoshihashi Kurumi, Hamaura Ayano and Kaga Kaede.
On April 4 to April 9, Murota participated in the stage play Ikinuku Kiseki ~Juu Nenme no Negai~ alongside Yaguchi Mari, Tanabe Nanami, Yoshihashi Kurumi and Ichioka Reina.
In April, Murota joined Team Okai. She made her debut in the dance unit on April 13, covering the role of Oda Sakura for the dance cover of "Brainstorming".
On June 13, Murota participated in a release event for "Ten Made Nobore!" at Ikebukuro Sunshine city with Juice=Juice, Tanabe Nanami, Hamaura Ayano and Sasaki Rikako.
From March 14 to March 23, Murota participated in the Bokutachi Karen na Shounen Gasshoudan musical, along with Morning Musume OG members Yasuda Kei and Ogawa Makoto, and Hello Pro Kenshuusei members Tanabe Nanami, Hamaura Ayano, Yamagishi Riko, Kaga Kaede, Sasaki Rikako, Yamaki Risa, and Oura Hirona. On opening day, the Hello Pro Kenshuusei single "Karen na Gasshoudan" was released to promote the musical.
On October 4, it was announced that Murota was selected to join S/mileage as a 3rd generation member along with Aikawa Maho and Sasaki Rikako,[2][3] subsequently leaving Hello Pro Kenshuusei.[5] She completed her trainee activities following the release of Hello Pro Kenshuusei's first album, ① Let's say "Hello!", which was released during the November and December Kenshuusei recital on November 29.
On June 12, Murota celebrated her 17th birthday at a fanclub event titled ANGERME ~Murota Mizuki Birthday Event 2015~. The event featured two performances at TOKYO FM HALL.
On July 28, Murota released her first solo e-Hello! Blu-ray, Greeting ~Murota Mizuki~.
On February 11, Murota starred in an episode of the NHK Education TV drama Otona e Novel.[6]
On June 13, Murota celebrated her 18th birthday at a fanclub event titled ANGERME Murota Mizuki Birthday Event 2016. The event featured two performances at TOKYO FM HALL.
In December, Murota was added as a member of the Hello! Project Station Dance Club.[7]
On March 12, during the ANGERME Live Tour 2017 Haru ~Rin~ in Okinawa, Murota announced that she would release her first solo photobook which was shot in the area two days before.[8][9] The photobook, MURO, was released on May 15.[10]
On June 13, Murota celebrated her 19th birthday at a fanclub event titled ANGERME Murota Mizuki Birthday Event 2017. The event featured two performances at TOKYO FM HALL.
Personal Life
Edit
Murota has an older sister.[11]
When Murota joined Hello Pro Kenshuusei, she was a second year middle school student. When she debuted in S/mileage, she was a first year high school student.[3] She graduated from high school on March 5, 2017.[12]
The following list are notable friendships Murota Mizuki has acquired:
The following list are nicknames that have been used to refer to Murota Mizuki:
Name: Murota Mizuki (室田瑞希)
Date of Birth: June 12, 1998[3]
Birth place: Chiba, Japan[3]
Blood type: AB[3]
Height: 153.8 cm
Shoe Size: 23 cm[11]
Hello! Project Status:
ANGERME Member Color: Light Blue (2014-present)
Hello! Project Groups:
Discography
Edit
Solo Songs
Edit
Solo Blu-rays
Edit

Fanclub DVDs
Edit
Publications
Edit
Solo Photobooks
Edit

TV Dramas
Edit
[2016] Otona e Novel (one episode)
TV Programs
Edit
[2015-] AS1422 (アンジュルムステーション1422)
If she could join another group, she would have joined ℃-ute.
She wants to be a person who is famous all around the world like Michael Jackson.
She doesn't want to lose to anyone. That's all she can feel when she stands on stage.
After failing the S/mileage audition and the Morning Musume 10th generation audition, her mother suggested her to audition for Hello Pro Kenshuusei.[4]
During her time in Hello Pro Kenshuusei, she believed that she wouldn't lose to any other Kenshuusei member in pantomime, robot dancing, eye relays, splits and mimicry.[16]
She says the hardest thing about being a Hello Pro Kenshuusei was being left out of songs and dances because of the newer members.
On a rainy day she would do homework, or sing "100kai no KISS" by Matsuura Aya.
When asked what group she'd like to debut in, she answered Morning Musume. When asked again later, she said that her dream was to debut soon and have people remember her name and face, and she'd like to appear on Kouhaku as a famous idol.
She's aiming to become a good dancer.
She wants to try singing "Soku Dakishimete" by ℃-ute.
Her Hello Pro Kenshuusei rival in dancing was Inaba Manaka, because she's so good that she actually learned from her, and her rival in singing was Dambara Ruru, because her voice is so beautiful that it brought her to tears.
She is currently the only ANGERME member to have the AB blood type.
She is the oldest to have joined S/mileage, at the age of 16.
Her favorite make-up brand is Chanel, but she also likes Yves Saint Laurent and Dior.[14]
Her favorite clothing brand is Cecil McBee and she recently likes Liz Lisa.[14]
In Fukuda Kanon's final interview before her graduation, she commented on Murota: "She's sexy and mature. She has nice lines when she dances and I'm excited to see how she grows and develops."[18]
She is a fan of the Korean pop group Twice, and was excited to be gifted Twice goods at her 2017 birthday event.[19]
A fan-recorded video (originally posted on Twitter)[20] of Murota dancing at the Asobu. Kurasu. Sodateru. SATOYAMA & SATOUMI e Ikou 2017 event on March 25, 2017 went viral on Facebook,[21] earning 1.5 million views and international media attention within three days.[22][23]
If she could be reborn as someone else, she would be Uemura Akari because she has a lovely face, seems like she's "the beauty", and has good style.[13]
She thinks she is probably the most gyaru-like member currently in Hello! Project.[13]
If she did not become an idol, she would like to become an actress or a nursery school teacher.[13]
Murota Family Tree
Edit
Father
Mother
Elder
Sister
Mizuki
(b.1998)
References
Edit
External Links
Edit