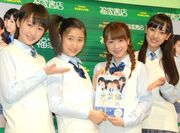 Morning Musume Tenki Gumi BOOK (モーニング娘。天気組BOOK) is a book by the 10th generation members of Morning Musume to commemorate their two years in the group. It was published on December 1, 2013 by Wani Books.
Official Description
Edit
Four people who will carry on Morning Musume's next generation――looking back at their two years.
Morning Musume. Calendar book release is decided by 10 people 4 people.
We've rewritten "Weather Group 2013 Calendar" which four people serially wrote in the magazine "UTB", and renewed it to 2014 version and compiled it into one volume.
Besides the calendar, plenty of shoots such as long interview talking about real intention, swimming suit and uniform, room wear etc!
It is one book of a gem that can feel "10 period love" of friends 4 people.
Do not miss it!
Book Preview
Edit
On the book is inclued 2014 Calendar
A Relsate Event on December 10, 2013.
External Links
Edit