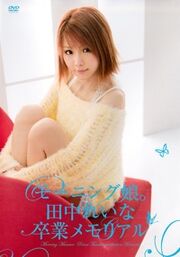 Morning Musume. Tanaka Reina Sotsugyou Memorial (モーニング娘。田中れいな卒業メモリアル; Morning Musume. Tanaka Reina Graduation Memorial) is a special graduation-edition DVD Magazine by Tanaka Reina (Morning Musume). It was released on March 16, 2013 as a merchandise for Morning Musume Concert Tour 2013 Haru Michishige☆Eleven SOUL ~Tanaka Reina Sotsugyou Kinen Special~.
This special DVD magazine features scenes from the time she auditioned for Morning Musume to the day her graduation was announced, leading up to the formation of LoVendoЯ. Then, she requested to go an arcade, where she just wanted to have fun and smile.
Tracklist
Edit
Tanaka Reina Interview (Debut) (デビュー)
Tanaka Reina Interview (Morning Musume Jidai) (モーニング娘。時代)
Tanaka Reina Interview (Sotsugyou no Koto, Kore Kara no Koto) (卒業のこと、これからのこと)
Game Center de Asobitaii (ゲームセンターで遊びたいっ)
Tanaka Reina Interview (Video Letter)
Ending
External Links
Edit
Ad blocker interference detected!
Wikia is a free-to-use site that makes money from advertising. We have a modified experience for viewers using ad blockers

Wikia is not accessible if you've made further modifications. Remove the custom ad blocker rule(s) and the page will load as expected.