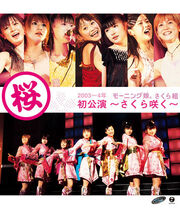 Morning Musume Sakura Gumi Hatsu Kouen ~Sakura Saku~ (モーニング娘。さくら組初公演〜さくら咲く〜) was Morning Musume Sakura Gumi 's Winter 2003~2004 concert tour. The concert DVD was filmed on February 15, 2004 at Omiya Sonic City. It was released on June 9, 2004. The DVD ranked at #1 and sold 29,050 copies.
The Blu-ray disc edition of this concert was released on September 11, 2013, with Morning Musume credited for the release. It failed to chart on Oricon.
Tracklist
Edit
OPENING
MC1
Morning Coffee (2013 Natsu Version)
MC2
Skit "Yuuki wo Kudasai" (寸劇「勇気を下さい」)
4人は幼なじみ
いつも完璧 紺野です! (Inst ver.)
妹はもういない (Inst ver.)
新港埠頭の港唄 (Inst ver.)
ショーをやりましょう! (Inst ver.)
MC3
MC4
Hare Ame Nochi Suki♥

<ENCORE>
Game Corner (ゲームコーナー)
MC5
Featured Members
Edit
External Links
Edit
Ad blocker interference detected!
Wikia is a free-to-use site that makes money from advertising. We have a modified experience for viewers using ad blockers

Wikia is not accessible if you've made further modifications. Remove the custom ad blocker rule(s) and the page will load as expected.