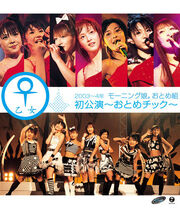 Morning Musume Otome Gumi ~Otome Chikku~ (モーニング娘。おとめ組~おとめチック~) was Morning Musume Otome Gumi's 2003-2004 Winter concert. The concert DVD was filmed on March 20, 2004 at Omiya Sonic City. The DVD was released on June 9, 2004. The DVD ranked at #2 and sold 28,697 copies.
The Blu-ray version of the concert was released on September 11, 2013, with Morning Musume credited for the release.
Tracklist
Edit
OPENING
MC1
MC2
Skit "Ren'ai Simulation" Tomodachi (♀) ga Ki ni Haiteiru Otoko Kara no Dengou (Skit Ver.) (寸劇「恋愛シュミレーション」友達(♀)が気に入っている男からの伝言 (寸劇 ver.))
MC3
MC4
Game Corner (ゲームコーナー)
MC5
Featured Members
Edit
External Links
Edit
Ad blocker interference detected!
Wikia is a free-to-use site that makes money from advertising. We have a modified experience for viewers using ad blockers

Wikia is not accessible if you've made further modifications. Remove the custom ad blocker rule(s) and the page will load as expected.