Ad blocker interference detected!
Wikia is a free-to-use site that makes money from advertising. We have a modified experience for viewers using ad blockers

Wikia is not accessible if you've made further modifications. Remove the custom ad blocker rule(s) and the page will load as expected.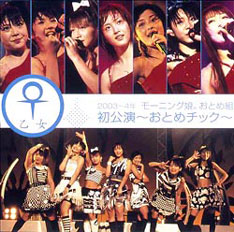 Morning Musume Otome Gumi ~Otome Chikku~ (モーニング娘。おとめ組~おとめチック~) was Morning Musume Otome Gumi's 2003-2004 Winter concert. The concert DVD was filmed on March 20, 2004 at Omiya Sonic City. The DVD was released on June 9, 2004. The DVD ranked at #2 and sold 28,697 copies.
The Blu-ray version of the concert was released on September 11, 2013, with Morning Musume credited for the release.
Tracklist
Edit
OPENING
MC1
MC2
Skit "Ren'ai Simulation" Tomodachi (♀) ga Ki ni Haiteiru Otoko Kara no Dengou (Skit Ver.) (寸劇「恋愛シュミレーション」友達(♀)が気に入っている男からの伝言 (寸劇 ver.))
MC3
MC4
Game Corner (ゲームコーナー)
MC5
Featured Members
Edit
External Links
Edit