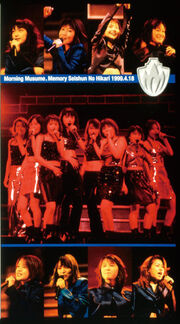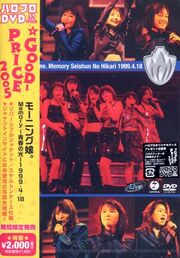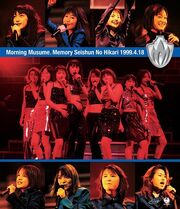 Morning Musume '99 Memory Seishun no Hikari Tour (モーニング娘。 '99 Memory 青春の光ツアー) was the first solo concert tour by Morning Musume. This concert is Fukuda Asuka's graduation concert, as well as the first graduation ceremony in Morning Musume history.
On June 30, 1999, the footage of the final night of the tour was released on VHS, DVD, and Laser Disc as Morning Musume Memory ~Seishun no Hikari~ Tour 1999.4.18 (モ-ニング娘。Memory〜青春の光〜Tour 1999.4.18). The DVD sold 5,210 copies. The Blu-ray version of this concert was released on August 7, 2013, and it failed to chart on Oricon's DVD chart.
Tracklist
Edit
"Naichau kamo..." (「泣いちゃうかも・・・。」)
9:05pm
11:30am Tokyo Kouseinenkin Kaikan (東京厚生年金会館)
Saigo no Rehearsal (最後のリハ-サル)
10ppun Mae... (10分前・・・。)
Koi no ABC (恋のABC)
"Kono Hi wa Kite Hoshikunakatta..." (「この日は来て欲しくなかった・・・。」)
8:09pm
Asuka Call (明日香コ-ル)
9:45pm
Epilogue (エピロ-グ)
Featured Members
Edit
This is the only Morning Musume concert to feature a live band instead of pre-recorded music.
External Links
Edit