Morning Musume Live Hatsu no Budokan ~Dancing Love Site 2000 Haru~
Comments

2
Share
Ad blocker interference detected!
Wikia is a free-to-use site that makes money from advertising. We have a modified experience for viewers using ad blockers

Wikia is not accessible if you've made further modifications. Remove the custom ad blocker rule(s) and the page will load as expected.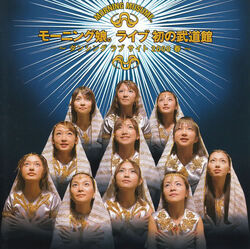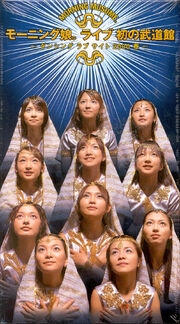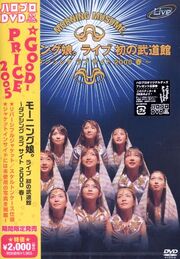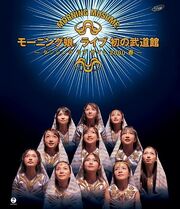 Morning Musume Live Hatsu no Budokan ~Dancing Love Site 2000 Spring~ (モーニング娘。ライブ 初の武道館 ~ダンシング ラブ サイト 2000 春~) is a DVD and VHS release of a concert by Morning Musume and was performed to audiences of 22,000 people, at Nippon Budokan. The concert also featured a couple of guest appearances by other Hello! Project groups. The original concert was on May 20-21, 2000. It was released on August 30, 2000. This concert included the graduation of 2nd generation member, Ichii Sayaka. It was also the first tour featuring the 4th generation members Ishikawa Rika, Yoshizawa Hitomi, Tsuji Nozomi and Kago Ai. The DVD sold 149,803 copies, while the VHS version sold 151,479 copies.
The Blu-ray version of this concert was released on August 7, 2013, and it failed to chart on Oricon's DVD chart.
Tracklist
Edit
OPENING
MC1
Hokkaido Shalala - Country Musume
Kokuhaku Kinenbi - Melon Kinenbi
Sutenaide yo - Nakazawa Yuko
Tanpopo - Tanpopo
MC2
Chokotto LOVE - Petitmoni
MC3
ENDING - Happy Summer Wedding (over Ichii Sayaka graduation footage & credits)
LOVE Machine (Multi) (Ichii Sayaka close-up)
Members Featured
Edit
External Links
Edit
Morning Musume
History | Timeline | Auditions | DVDs | Publications
Concerts

Concerts

Spring Tours: 2001 | 2002 | 2003 | 2004, 2005 | 2006 | 2007 | 2008 | 2009 | 2010 | 2011 | 2012 | 2013 | 2014 | 2015 | 2016


Fall Tours: 2004 | 2005 | 2006 | 2007 | 2008 | 2009 | 2010 | 2011 | 2012 | 2013 | 2014 | 2015 | 2016
Other: 1999 | 2000 | 2001 | 2002 | 2003 | 2009 | 2013 | 2014 (Naruchika, New York) | 2016 (Houston, Naruchika, Taipei)

Other Concerts & Events
Hello! Project Concerts
Summer Tours: 2009 | 2010 | 2011 (WOW WOW, YEAH YEAH) | 2012 (Ktkr, Wkwk) | 2013 (Sorezore!, Mazekoze!) | 2014 | 2015 | 2016


Winter Tours: 2010 (Mobekimasu!) | 2011 (A-gana, B-kkuri) | 2012 (Funky-chan, Rock-chan) | 2013 (Viva!, Bravo!) | 2014 (GOiSU MODE, DE-HA MiX) | 2015 | 2016 | 2017
Hina Fest: 2013 (Zen'yasai, Berryz Koubou 10 Nenme Totsunyuu Special, Thank You For Your Love!) | 2014 | 2015 | 2016
Other Concerts: Hello! Project ☆ Festival 2011 | Hello! Project Yaon Premium Live ~Soto Fest~ | Hello! Project COUNTDOWN PARTY 2013 ~GOOD BYE & HELLO!~ | Hello! Project COUNTDOWN PARTY 2014 ~GOOD BYE & HELLO!~ | Berryz Koubou Matsuri | Hello! Project COUNTDOWN PARTY 2015 ~GOOD BYE & HELLO!~