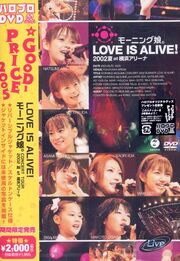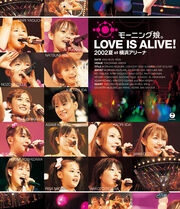 Morning Musume Love Is Alive! 2002 Natsu at Yokohama Arena (モーニング娘。LOVE IS ALIVE ! 2002夏 at 横浜アリーナ) marked Goto Maki's "graduation." It was also the last show before Petitmoni and Tanpopo welcomed new members. Guests include Coconuts Musume and Country Musume. The Performance was recorded on September 23, 2002 at Yokohama Arena. The DVD was released on November 20, 2002. It sold 89,526 copies.
The Blu-ray version of the concert was released on September 11, 2013, it failed to chart on Oricon's DVD chart.
Tracklist
Edit
Opening
MC1
Otoko Tomodachi - Abe Natsumi (accomapnied by 5th Generation)
MC2
BABY! Koi ni KNOCK OUT! + Chokotto LOVE - - Petitmoni
MC3
MC4
MC5
Akai Nikkichou - Goto Maki
Te wo Nigitte Arukitai - Goto Maki
Members Featured
Edit
Guests
External Links
Edit
Ad blocker interference detected!
Wikia is a free-to-use site that makes money from advertising. We have a modified experience for viewers using ad blockers

Wikia is not accessible if you've made further modifications. Remove the custom ad blocker rule(s) and the page will load as expected.