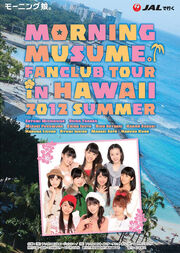 Morning Musume Fanclub Tour in HAWAII 2012 summer (モーニング娘。ファンクラブツアー in ハワイ 2012) is Morning Musume's fanclub tour 2012 in Hawaii.
MC1
MC2 - Ikuta, Suzuki, Kudo
MC3 - Michishige, Fukumura, Iikubo, Sato
MC4 - Tanaka, Sayashi, Ishida
Yuujou ~Kokoro no Busu ni wa Naranee!~ - Michishige Sayumi, Tanaka Reina, Ikuta Erina, Ishida Ayumi, Sato Masaki
MC5
Featured Members
Edit
External Links
Edit
Ad blocker interference detected!
Wikia is a free-to-use site that makes money from advertising. We have a modified experience for viewers using ad blockers

Wikia is not accessible if you've made further modifications. Remove the custom ad blocker rule(s) and the page will load as expected.