Morning Musume Concert Tour 2010 Aki ~Rival Survival~
Comment

1
Share
Morning Musume Concert Tour 2010 Aki ~Rival Survival~


DVD Cover

Morning Musume

Concert Tour
Native title
モーニング娘。コンサートツアー2010秋~ライバルサバイバル~
Opening Date
September 18, 2010
Closing Date
December 15, 2010
Released
February 23, 2011 (DVD)
April 13, 2011 (BD)
Format
DVD, Blu-Ray
Recorded
December 15, 2010

Morning Musume

Concert Tours Chronology
Previous
Live at Japan Expo 2010 2010 Concert in Paris
Next
Shin Souseiki Fantasy DX Spring 2011 Tour
Other Covers

BD Cover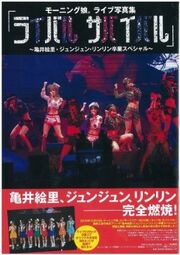 Morning Musume Concert Tour 2010 Aki ~Rival Survival~ (モーニング娘。コンサートツアー2010秋~ライバルサバイバル~) Morning Musume's fall 2010 concert tour. It ran from September 18 to December 15, 2010.
Kamei Eri, Junjun, and Linlin graduated from Morning Musume and Hello! Project on the final day of the tour at Yokohama Arena.
The DVD of the Yokohama Arena concert ranked at #7 and sold 9,463 copies, while the Blu-ray ranked at #13 and sold 2,087 copies.
Tracklist
Edit
Featured Members
Edit
Opening Act (12/15 only)
External Links
Edit
Ad blocker interference detected!
Wikia is a free-to-use site that makes money from advertising. We have a modified experience for viewers using ad blockers

Wikia is not accessible if you've made further modifications. Remove the custom ad blocker rule(s) and the page will load as expected.