Ad blocker interference detected!
Wikia is a free-to-use site that makes money from advertising. We have a modified experience for viewers using ad blockers

Wikia is not accessible if you've made further modifications. Remove the custom ad blocker rule(s) and the page will load as expected.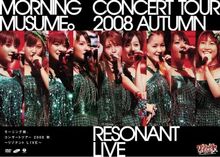 Morning Musume Concert Tour 2008 Aki ~Resonant LIVE~ (モーニング娘。コンサートツアー2008秋~リゾナント LIVE~) was Morning Musume's 2008 fall concert. MilkyWay was featured as a guest. The DVD was filmed on November 3, 2008 at Tokyo Welfare Meeting Hall, and was released on January 28, 2009. The DVD ranked at #4 and sold 14,981 copies total.
The Blu-ray Disc version of the concert was released on December 4, 2013.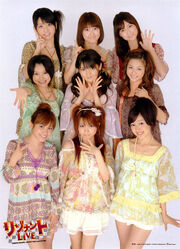 Tracklist
Edit
OPENING
MC1
VTR: Member Introduction
MC2
Lemon Iro to Milk Tea (Tanaka Reina Main Ver.)
MC3 - Kamei Eri, Michishige Sayumi, and Tanaka Reina
Guru Guru JUMP - Kusumi Koharu, Junjun, and Linlin
MC4 - Kusumi Koharu, Mitsui Aika, Junjun, and Linlin
MC5 - Takahashi Ai and Niigaki Risa
MC6
Resonant Blue
ENCORE
MC7
Bonus Footage
Featured Members
Edit
Concert Schedule
Edit
| Date | Venue | Prefecture | Concert Starts |
| --- | --- | --- | --- |
| 09/27 | Harmony Hall Zama | Kanagawa | 14:30 |
| 09/27 | Harmony Hall Zama | Kanagawa | 18:00 |
| 09/28 | Harmony Hall Zama | Kanagawa | 14:30 |
| 09/28 | Harmony Hall Zama | Kanagawa | 18:00 |
| 10/04 | Kagoshima Citizen's Cultural Hall | Kagoshima | 18:00 |
| 10/05 | Saga Culture Hall | Saga | 15:30 |
| 10/05 | Saga Culture Hall | Saga | 19:00 |
| 10/12 | Nagoya-shi Koukaido | Aichi | 15:30 |
| 10/12 | Nagoya-shi Koukaido | Aichi | 19:00 |
| 10/13 | Nagoya-shi Koukaido | Aichi | 14:30 |
| 10/13 | Nagoya-shi Koukaido | Aichi | 18:00 |
| 10/18 | Gunma Kenmin Kaikan | Gunma | 15:30 |
| 10/18 | Gunma Kenmin Kaikan | Gunma | 19:00 |
| 10/25 | Aubade Hall | Toyama | 15:30 |
| 10/25 | Aubade Hall | Toyama | 19:00 |
| 10/26 | Nagano Civic Hall | Nagano | 15:30 |
| 10/26 | Nagano Civic Hall | Nagano | 19:00 |
| 11/01 | Tōkyō Kousei Nenkin Kaikan | Tōkyō | 18:30 |
| 11/02 | Tōkyō Kousei Nenkin Kaikan | Tōkyō | 14:30 |
| 11/02 | Tōkyō Kousei Nenkin Kaikan | Tōkyō | 18:00 |
| 11/03 | Tōkyō Kousei Nenkin Kaikan | Tōkyō | 14:00 |
| 11/03 | Tōkyō Kousei Nenkin Kaikan | Tōkyō | 18:30 |
| 11/08 | Hachioji Citizen Hall | Tōkyō | 15:30 |
| 11/08 | Hachioji Citizen Hall | Tōkyō | 19:00 |
| 11/15 | Hiroshima Kousei Nenkin Kaikan | Hiroshima | 15:30 |
| 11/15 | Hiroshima Kousei Nenkin Kaikan | Hiroshima | 19:00 |
| 11/16 | Yonago Convention Center | Yonago | 16:30 |
| 11/23 | Chiba-ken Bunka Kaikan | Chiba | 15:30 |
| 11/23 | Chiba-ken Bunka Kaikan | Chiba | 19:00 |
| 11/24 | Nigata Prefectural Civic Plaza | Nigata | 15:30 |
| 11/24 | Nigata Prefectural Civic Plaza | Nigata | 19:30 |
| 11/29 | Umeda Arts Theater | Ōsaka | 15:30 |
| 11/29 | Umeda Arts Theater | Ōsaka | 19:00 |
| 11/30 | Umeda Arts Theater | Ōsaka | 14:30 |
| 11/30 | Umeda Arts Theater | Ōsaka | 18:00 |
External Links
Edit
Morning Musume
History | Timeline | Auditions | DVDs | Publications
Concerts

Concerts

Spring Tours: 2001 | 2002 | 2003 | 2004, 2005 | 2006 | 2007 | 2008 | 2009 | 2010 | 2011 | 2012 | 2013 | 2014 | 2015 | 2016


Fall Tours: 2004 | 2005 | 2006 | 2007 | 2008 | 2009 | 2010 | 2011 | 2012 | 2013 | 2014 | 2015 | 2016
Other: 1999 | 2000 | 2001 | 2002 | 2003 | 2009 | 2013 | 2014 (Naruchika, New York) | 2016 (Houston, Naruchika, Taipei)

Other Concerts & Events
Hello! Project Concerts
Summer Tours: 2009 | 2010 | 2011 (WOW WOW, YEAH YEAH) | 2012 (Ktkr, Wkwk) | 2013 (Sorezore!, Mazekoze!) | 2014 | 2015 | 2016


Winter Tours: 2010 (Mobekimasu!) | 2011 (A-gana, B-kkuri) | 2012 (Funky-chan, Rock-chan) | 2013 (Viva!, Bravo!) | 2014 (GOiSU MODE, DE-HA MiX) | 2015 | 2016 | 2017
Hina Fest: 2013 (Zen'yasai, Berryz Koubou 10 Nenme Totsunyuu Special, Thank You For Your Love!) | 2014 | 2015 | 2016
Other Concerts: Hello! Project ☆ Festival 2011 | Hello! Project Yaon Premium Live ~Soto Fest~ | Hello! Project COUNTDOWN PARTY 2013 ~GOOD BYE & HELLO!~ | Hello! Project COUNTDOWN PARTY 2014 ~GOOD BYE & HELLO!~ | Berryz Koubou Matsuri | Hello! Project COUNTDOWN PARTY 2015 ~GOOD BYE & HELLO!~