Morning Musume Concert Tour 2007 Aki ~Bon Kyu! Bon Kyu! BOMB~
Comments

4
Share
Ad blocker interference detected!
Wikia is a free-to-use site that makes money from advertising. We have a modified experience for viewers using ad blockers

Wikia is not accessible if you've made further modifications. Remove the custom ad blocker rule(s) and the page will load as expected.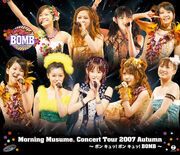 Morning Musume Concert Tour 2007 Aki ~Bon Kyu! Bon Kyu! BOMB~ (モーニング娘。コンサートツアー2007秋~ ボン キュッ!ボン キュッ!BOMB~) was Morning Musume's 2007 Autumn concert tour. In addition, v-u-den was featured as special guests. The concert DVD was filmed on November 25, 2007 at Tokyo Welfare Meeting Hall. It was released on February 14, 2008. The DVD ranked at #3 and sold 20,092 copies total.
The Blu-ray Disc version of the concert was released on November 6, 2013.
Unless noted, all songs are performed by Morning Musume.
MC1 - Morning Musume and v-u-den
MC2 - Kamei Eri, Michishige Sayumi, Tanaka Reina, Junjun, and Linlin
Suki na Senpai - Junjun and Linlin
MC3 - Takahashi Ai and Niigaki Risa
MC4 - v-u-den
Otoko Tomodachi - Mitsui Aika (with v-u-den)
VTR Corner: Puppetry
MC5
ENCORE
Featured Members
Edit
External Links
Edit
Morning Musume
History | Timeline | Auditions | DVDs | Publications
Concerts

Concerts

Spring Tours: 2001 | 2002 | 2003 | 2004, 2005 | 2006 | 2007 | 2008 | 2009 | 2010 | 2011 | 2012 | 2013 | 2014 | 2015 | 2016


Fall Tours: 2004 | 2005 | 2006 | 2007 | 2008 | 2009 | 2010 | 2011 | 2012 | 2013 | 2014 | 2015 | 2016
Other: 1999 | 2000 | 2001 | 2002 | 2003 | 2009 | 2013 | 2014 (Naruchika, New York) | 2016 (Houston, Naruchika, Taipei)

Other Concerts & Events
Hello! Project Concerts
Summer Tours: 2009 | 2010 | 2011 (WOW WOW, YEAH YEAH) | 2012 (Ktkr, Wkwk) | 2013 (Sorezore!, Mazekoze!) | 2014 | 2015 | 2016


Winter Tours: 2010 (Mobekimasu!) | 2011 (A-gana, B-kkuri) | 2012 (Funky-chan, Rock-chan) | 2013 (Viva!, Bravo!) | 2014 (GOiSU MODE, DE-HA MiX) | 2015 | 2016 | 2017
Hina Fest: 2013 (Zen'yasai, Berryz Koubou 10 Nenme Totsunyuu Special, Thank You For Your Love!) | 2014 | 2015 | 2016
Other Concerts: Hello! Project ☆ Festival 2011 | Hello! Project Yaon Premium Live ~Soto Fest~ | Hello! Project COUNTDOWN PARTY 2013 ~GOOD BYE & HELLO!~ | Hello! Project COUNTDOWN PARTY 2014 ~GOOD BYE & HELLO!~ | Berryz Koubou Matsuri | Hello! Project COUNTDOWN PARTY 2015 ~GOOD BYE & HELLO!~