Morning Musume Concert Tour 2005 Haru ~Dai 6 Kan Hit Mankai!~
Comments

0
Share
Ad blocker interference detected!
Wikia is a free-to-use site that makes money from advertising. We have a modified experience for viewers using ad blockers

Wikia is not accessible if you've made further modifications. Remove the custom ad blocker rule(s) and the page will load as expected.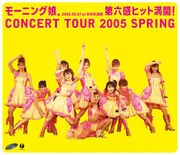 Morning Musume Concert Tour 2005 Haru ~Dai 6 Kan Hit Mankai!~
(モーニング娘。コンサートツアー2005春 ~第六感 ヒット満開!~) was
Morning Musume
's 2005 Spring concert tour. The concert DVD was filmed on May 7, 2005 at
Nippon Budokan
, It was the graduation concert for 4th generation member
Ishikawa Rika
. 7th. Generation member
Kusumi Koharu
was introduced in this concert. The DVD ranked at #1 and sold 45,189 copies total.
A Blu-ray version was released of this concert on October 9, 2013.
Tracklist
Edit
OPENING
MC Morning Musume Audition 2005 winner annoucement Kusumi Koharu only winner
MC
MC
GET UP! Rapper (GET UP! ラッパー) - Yoshizawa Hitomi, Ogawa Makoto, Niigaki Risa, Michishige Sayumi, Tanaka Reina
Furusato (ふるさと) - Takahashi Ai
Morning Coffee (2002 Version) (モーニングコーヒー (2002 Version)) - Ishikawa Rika, Konno Asami, Kamei Eri, Fujimoto Miki
MC
Ren'ai Revolution 21 (恋愛レボリューション21) - Ishikawa Rika, Yoshizawa Hitomi, Konno Asami, Ogawa Makoto, Fujimoto Miki, Kamei Eri, Michishige Sayumi, Tanaka Reina
Chokkan ~Toki to Shite Koi wa~ (直感 ~時として恋は~)
Medley (メドレー)
Sukiyaki (すき焼き)
Go Girl ~Koi no Victory~ (Go Girl ~恋のヴィクトリー~)
MC
I WISH
ENCORE
MC
Osaka Koi no Uta (大阪 恋の歌)
MC
Hajimete no Happy Birthday (初めてのハッピーバスディ!) - Ishikawa Rika
MC
The☆Peace! (ザ☆ピ~ス!)
Extras:
Furusato (ふるさと) - Niigaki Risa
SHALL WE LOVE? - Yoshizawa Hitomi, Takahashi Ai, Ogawa Makoto, Michishige Sayumi, Tanaka Reina
Making of (メイキング映像)
Featured Members
Edit
External Links
Edit
Morning Musume
History | Timeline | Auditions | DVDs | Publications
Concerts

Concerts

Spring Tours: 2001 | 2002 | 2003 | 2004, 2005 | 2006 | 2007 | 2008 | 2009 | 2010 | 2011 | 2012 | 2013 | 2014 | 2015 | 2016


Fall Tours: 2004 | 2005 | 2006 | 2007 | 2008 | 2009 | 2010 | 2011 | 2012 | 2013 | 2014 | 2015 | 2016
Other: 1999 | 2000 | 2001 | 2002 | 2003 | 2009 | 2013 | 2014 (Naruchika, New York) | 2016 (Houston, Naruchika, Taipei)

Other Concerts & Events
Hello! Project Concerts
Summer Tours: 2009 | 2010 | 2011 (WOW WOW, YEAH YEAH) | 2012 (Ktkr, Wkwk) | 2013 (Sorezore!, Mazekoze!) | 2014 | 2015 | 2016


Winter Tours: 2010 (Mobekimasu!) | 2011 (A-gana, B-kkuri) | 2012 (Funky-chan, Rock-chan) | 2013 (Viva!, Bravo!) | 2014 (GOiSU MODE, DE-HA MiX) | 2015 | 2016 | 2017
Hina Fest: 2013 (Zen'yasai, Berryz Koubou 10 Nenme Totsunyuu Special, Thank You For Your Love!) | 2014 | 2015 | 2016
Other Concerts: Hello! Project ☆ Festival 2011 | Hello! Project Yaon Premium Live ~Soto Fest~ | Hello! Project COUNTDOWN PARTY 2013 ~GOOD BYE & HELLO!~ | Hello! Project COUNTDOWN PARTY 2014 ~GOOD BYE & HELLO!~ | Berryz Koubou Matsuri | Hello! Project COUNTDOWN PARTY 2015 ~GOOD BYE & HELLO!~