Morning Musume CONCERT TOUR 2004 Haru The BEST of Japan
Comment

1
Share
Ad blocker interference detected!
Wikia is a free-to-use site that makes money from advertising. We have a modified experience for viewers using ad blockers

Wikia is not accessible if you've made further modifications. Remove the custom ad blocker rule(s) and the page will load as expected.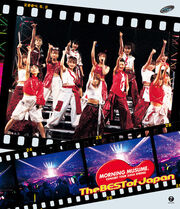 モーニング娘。CONCERT TOUR2004春 The BEST of Japan (Romaji: Morning Musume Concert Tour 2004 Haru The BEST of Japan) is a live concert DVD featuring Morning Musume. Mika Todd graduates from Hello! Project in this concert, and Minimoni gets put on hiatus. It was released on 2004-07-14 as a DVD with the catalog EPBE-5134.
The DVD ranked at #2 and sold 52,231 copies total.
A Blu-ray version was released of the concert on October 9, 2013.
Track listing
Edit
オープニング (Opening)
浪漫 ~MY DEAR BOY~ (Roman ~MY DEAR BOY~)
MC1
Go Girl ~恋のヴィクトリー~ (Go Girl ~Koi no Victory~)
モーニング娘。のひょっこりひょうたん島 (Morning Musume no Hyokkori Hyoutanjima)
MC2
MC3
恋のバカンス (Koi no Vacance) - W
エーゲ海に抱かれて (Aegekai ni Dakarete) - Iida Kaori
浮気なハニーパイ (Uwaki na Honey Pie) - Country Musume ni Konno to Fujimoto
ラッキーチャチャチャ! (Lucky Cha Cha Cha!) - Minimoni
ミニモニ。ジャンケンぴょん! (Minimoni Jankenpyon!) - Minimoni + Yaguchi Mari
笑顔のデート 最後のデート (Egao no Deeto Saigo no Deeto) - Minimoni
MC4
さくら満開 (Sakura Mankai) - Morning Musume Sakura Gumi
友情~心のブスにはならねぇ!~ (Yuujou ~Kokoro no Busu ni wa Naranee!~) - Morning Musume Otome Gumi)
晴れ 雨 のち スキ (Hare Ame Nochi Suki♥) - Morning Musume Sakura Gumi
愛の園~Touch My Heart!~ (Ai no Sono ~Touch My Heart!~) - Morning Musume Otome Gumi
Say Yeah!-もっとミラクルナイト- (Say Yeah! ~Motto Miracle Night~) - Morning Musume Sakura Gumi + Morning Musume Otome Gumi
VTRコーナー (VTR Corner)
メドレー (Medley)
そうだ!We're ALIVE (Souda! We're ALIVE)
シャボン玉 (Shabondama)
MC5
愛あらばIT'S ALL RIGHT (Ai Araba IT'S ALL RIGHT)
ENCORE
MC6
ザ☆ピ~ス! (The☆Peace!)
ここにいるぜぇ! (Koko ni Iruzee!)
External Links
Edit
Morning Musume
History | Timeline | Auditions | DVDs | Publications
Concerts

Concerts

Spring Tours: 2001 | 2002 | 2003 | 2004, 2005 | 2006 | 2007 | 2008 | 2009 | 2010 | 2011 | 2012 | 2013 | 2014 | 2015 | 2016


Fall Tours: 2004 | 2005 | 2006 | 2007 | 2008 | 2009 | 2010 | 2011 | 2012 | 2013 | 2014 | 2015 | 2016
Other: 1999 | 2000 | 2001 | 2002 | 2003 | 2009 | 2013 | 2014 (Naruchika, New York) | 2016 (Houston, Naruchika, Taipei)

Other Concerts & Events
Hello! Project Concerts
Summer Tours: 2009 | 2010 | 2011 (WOW WOW, YEAH YEAH) | 2012 (Ktkr, Wkwk) | 2013 (Sorezore!, Mazekoze!) | 2014 | 2015 | 2016


Winter Tours: 2010 (Mobekimasu!) | 2011 (A-gana, B-kkuri) | 2012 (Funky-chan, Rock-chan) | 2013 (Viva!, Bravo!) | 2014 (GOiSU MODE, DE-HA MiX) | 2015 | 2016 | 2017
Hina Fest: 2013 (Zen'yasai, Berryz Koubou 10 Nenme Totsunyuu Special, Thank You For Your Love!) | 2014 | 2015 | 2016
Other Concerts: Hello! Project ☆ Festival 2011 | Hello! Project Yaon Premium Live ~Soto Fest~ | Hello! Project COUNTDOWN PARTY 2013 ~GOOD BYE & HELLO!~ | Hello! Project COUNTDOWN PARTY 2014 ~GOOD BYE & HELLO!~ | Berryz Koubou Matsuri | Hello! Project COUNTDOWN PARTY 2015 ~GOOD BYE & HELLO!~