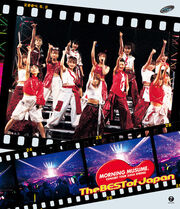 モーニング娘。CONCERT TOUR2004春 The BEST of Japan (Romaji: Morning Musume Concert Tour 2004 Haru The BEST of Japan) is a live concert DVD featuring Morning Musume. Mika Todd graduates from Hello! Project in this concert, and Minimoni gets put on hiatus. It was released on 2004-07-14 as a DVD with the catalog EPBE-5134.
The DVD ranked at #2 and sold 52,231 copies total.
A Blu-ray version was released of the concert on October 9, 2013.
Track listing
Edit
オープニング (Opening)
浪漫 ~MY DEAR BOY~ (Roman ~MY DEAR BOY~)
MC1
Go Girl ~恋のヴィクトリー~ (Go Girl ~Koi no Victory~)
モーニング娘。のひょっこりひょうたん島 (Morning Musume no Hyokkori Hyoutanjima)
MC2
MC3
恋のバカンス (Koi no Vacance) - W
エーゲ海に抱かれて (Aegekai ni Dakarete) - Iida Kaori
浮気なハニーパイ (Uwaki na Honey Pie) - Country Musume ni Konno to Fujimoto
ラッキーチャチャチャ! (Lucky Cha Cha Cha!) - Minimoni
ミニモニ。ジャンケンぴょん! (Minimoni Jankenpyon!) - Minimoni + Yaguchi Mari
笑顔のデート 最後のデート (Egao no Deeto Saigo no Deeto) - Minimoni
MC4
さくら満開 (Sakura Mankai) - Morning Musume Sakura Gumi
友情~心のブスにはならねぇ!~ (Yuujou ~Kokoro no Busu ni wa Naranee!~) - Morning Musume Otome Gumi)
晴れ 雨 のち スキ (Hare Ame Nochi Suki♥) - Morning Musume Sakura Gumi
愛の園~Touch My Heart!~ (Ai no Sono ~Touch My Heart!~) - Morning Musume Otome Gumi
Say Yeah!-もっとミラクルナイト- (Say Yeah! ~Motto Miracle Night~) - Morning Musume Sakura Gumi + Morning Musume Otome Gumi
VTRコーナー (VTR Corner)
メドレー (Medley)
そうだ!We're ALIVE (Souda! We're ALIVE)
シャボン玉 (Shabondama)
MC5
愛あらばIT'S ALL RIGHT (Ai Araba IT'S ALL RIGHT)
ENCORE
MC6
ザ☆ピ~ス! (The☆Peace!)
ここにいるぜぇ! (Koko ni Iruzee!)
External Links
Edit